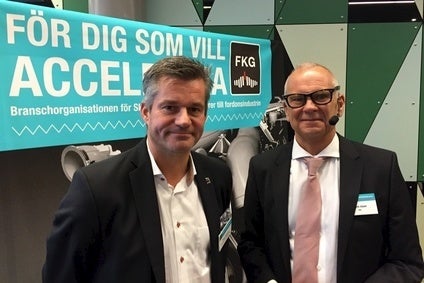 Swedish mechanical components and sub-systems manufacturer, Leax Group is eyeing Iran for potential major new business following its recent visit to the country organised by Scandinavian automotive supplier association, FKG.
The Swedes are following hot on the heels of French supplier body, FIEV which has been beating a path to Teheran's door for some time, but the possible and imminent lifting of sanctions against the once-pariah State appears to be concentrating business minds.
"Iran used to be a very good market for Volvo and Scania and we are a major supplier to the truck industry," Leax Group president and CEO, Roger Berggren told just-auto on the sidelines of this year's FKG Suppliers Forum in Gothenburg.
"We know the investment level has been very low due to sanctions and there may be a replacement need in the market. With that as a base – and Iran is a big country of 80m people – that was the starting point.
"It [trip] was partly subsidised and sanctioned by the Swedish government. The picture of Iran is making people a bit reluctant to go on such a journey [and] it is not the easiest market to work on. The nuclear agreement is still not signed, but we know doing business will take time."
There has been some speculation the deal allowing punitive sanctions against Tehran to be lifted, has now been agreed at the very top echelons of Iranian political control, although this has yet to be verified, while hawks in London, Washington and Paris are nervous whether or not the agreement will hold after the country being ostracised for so long.
However, a significant, young and educated population is straining at the leash to purchase goods of Western quality, with the current car and commercial parcs consisting of ageing models in urgent need of upgrade.
"We are talking about Euro V1, but here [Iran], we are talking about Euro Zero," added Berggren. The trucks were very, very old. Obviously what has happened, with the sanctions from Europe and the US, what they have done, they have gone for Chinese alternatives [and] they want to get back to the European supplier base. It is a tough environment for trucks and roads need improving.
"People were very pleased to see us. We met several companies, ICKO, Sapia and some suppliers. We [also] met some tractor manufacturers and we can see the technology level is at least ten years behind – they want new technology.
"They wanted joint venture co-operation and were very open, both in Tehran and Tabris."
The FKG group – part of the component body's 'Go Global' initiative for Scandinavian members to expand outside traditional markets – also met the Iranian supplier association but Berggren is realistic enough to know any translation from initial visits to concrete deals will take a significant amount of time.
"I think it will take several years," said the Leax chief. "The financial system is not yet fully in place – it is important to get paid so they have to put this financial system back.
"We [also] need to find partners locally we can co-operate with. This will take time and since it is a regime it is a bit unclear what is State and what is private.
"We need to think from our side on powertrain components, gearboxes and propeller shafts [for example]. I think engines and gearboxes for some time will come from the OEMs in Europe, but of course this [is] good for us.
"I have been in this business for more than 25 years – I tend to want to go home and double check the numbers."
Last month, the 1,200 employee-strong Leax Group secured its largest ever contract, with a deal to manufacture all gears and shafts for an – unnamed – European truck manufacturer in South America.
Production will take place a Leax's site in Curitiba, Brazil.