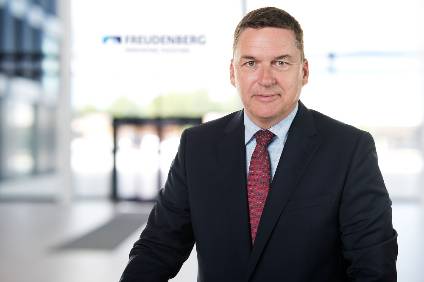 Freudenberg Sealing Technologies CEO Claus Moehlenkamp has told delegates at the Centre for Automotive Research Management Briefing Seminars (CAR MBS) conference in Traverse City that suppliers must adapt to survive as the auto industry faces major change ahead.
Moehlenkamp told session attendees that Freudenberg Sealing Technologies is implementing new business strategies that will capitalise on emerging opportunities. With nearly 70 percent of its automotive sales at risk, the company is already implementing a 'multi-point plan founded on internal realignment, new partnerships and ongoing technology development and investment efforts'.
"Any supplier who is heavily focused on the powertrain systems derived from the internal combustion engine is at risk and will be challenged in the long run."
"It is no longer a matter of if but a question of when disruption will impact automotive suppliers," Moehlenkamp told his audience. "Any supplier who is heavily focused on the powertrain systems derived from the internal combustion engine is at risk and will be challenged in the long run. It is imperative to seize the new opportunities being offered."
Freudenberg Sealing Technologies expects (internal combustion engines) ICE powertrains to remain crucial in the near term, especially as sales of plug-in hybrids with electric powertrain and internal combustion engines grow. By 2025, however, the company expects pure electric vehicles to gain significant volume as manufacturers overcome technology and market challenges. Growth in fuel cell applications will follow. E-mobility technology will gain significant volume by 2025 and fuel cell applications will follow later, the company maintains.
Moehlenkamp said Freudenberg Sealing Technologies has analysed how this transition will impact every aspect of its operations, from research and development, product engineering and manufacturing processes to supply chain operations, marketing and sales and workforce employment.
Moehlenkamp claimed that sealing technologies that lower friction, increase power and efficiency and address light-weighting and compact design requirements will be equally important in an era of new mobility.
But in addition, "we want to provide made-to-order products for nearly all the components of an electric vehicle," Moehlenkamp said. To achieve this, the company has reorganized itself internally and begun pursuing system and module capabilities in lithium-ion battery and fuel cell technologies through new external partnerships.
Dedicated e-mobility unit
In 2017, Freudenberg Sealing Technologies cemented its growing commitment to alternative powertrain technologies by establishing a dedicated e-mobility sales and marketing organization, Moehlenkamp told his MBS audience. The organization is responsible for building product and service opportunities and trust with existing and new customers working in the electric powertrain arena.
By analyzing the quickly evolving technology requirements of e-mobility vehicle manufacturers, the company says it has already expanded its product portfolio to include unique sealing solutions that address thermal management, higher safety standards, electrical transfer, electromagnetic shielding and a longer service life, among other trends.
Company analysis also revealed that growing e-mobility and fuel cell opportunities existed outside of the traditional automotive applications. To capitalize on these opportunities, Freudenberg Sealing Technologies has taken bold steps, Moehlenkamp said, including the formation of a new division that is anchored by two recent acquisitions.
The company's new Battery and Fuel Cell Division will pursue e-mobility and fuel cell opportunities in the commercial truck and bus, marine and energy industries, among others, Moehlenkamp revealed. In support of this work, Freudenberg Sealing Technologies has acquired the Munich, Germany-based fuel cell system manufacturer Elcore, and a significant interest in Midland, Mich., U.S.-based XALT Energy, a renowned developer and manufacturer of lithium-ion battery cells, power electronics and battery management systems.
"Elcore and XALT are crucial to our strategy of strengthening our current portfolio, investing in electrified technologies and building our business with strategic merger and acquisition opportunities," Moehlenkamp said. "With the additions, we have grown our expertise and module capabilities in lithium-ion battery and fuel cell systems.
"We will continue to consider merger and acquisition opportunities that support this strategy and help our company grow and capture market share," the CEO added.