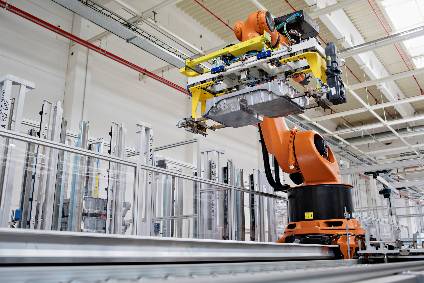 Skoda Auto has manufactured 500,000 battery systems at its main plant in Mladá Boleslav. The strategically important components are mounted in MEB vehicles and models with plug-in hybrid drivetrain by the Group brands Škoda, Volkswagen, Audi and SEAT.
The car manufacturer is heavily investing in the necessary transformation of its facilities as well as development, digitalisation and further education of its workforce. The company says it has already upskilled more than 23,000 employees to prepare them for the demands of e-mobility.
Michael Oeljeklaus, Škoda Auto Board Member for Production and Logistics, says: "Battery systems are the key component for our successful transformation to e-mobility. The landmark jubilee of 500,000 Škoda-made battery systems for MEB and plug-in hybrid vehicles is an outstanding achievement: It testifies both the trust of the Volkswagen Group in our highly-skilled team and our uncompromising commitment to e-mobility. And we are even shifting up another gear soon: We will be opening an additional assembly line and further increase the daily production capacity of battery systems. We are therefore following our clearly defined roadmap in order to strengthen the zech Republic as an e-mobility hub."
High-voltage traction batteries for models with plug-in hybrid drive by Škoda as well as the group brands Audi, SEAT and Volkswagen have been produced at the company's headquarters since September 2019.
In May 2022, Škoda Auto launched the production of battery systems for all-electric vehicles based on the Volkswagen Group's Modular Electrification Toolkit (MEB). The systems have a capacity of 55 to 82 kWh and are installed in the company's own MEB models as well as MEB vehicles by Volkswagen and Audi. Along with the individual battery modules, each containing 16 cells or 24 cells, a MEB battery system also includes a case with an integrated cooling and a battery management system, as well as the necessary electrical connections.