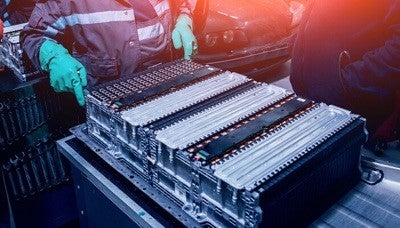 South Korean battery parts manufacturer SK IE Technology (SKIET) is considering building a lithium ion battery separator (LiBS) plant in the US to meet growing demand from battery manufacturers in the region, according to local reports citing a company official.
SKIET, a unit of SK Innovation which also owns EV battery manufacturer SK On, currently has battery separator factories in South Korea, China and Poland with a combined production capacity of 1.53bn square metres a year used mainly to separate battery components such as anodes and cathodes.
The company has yet to establish a plant in North America, however, which seems overdue given the group's recent expansion activity in the region.
Sk On has a plant in Georgia which supplies batteries for the Ford F150 Lightning electric pickup truck and is building two additional EV battery factories in the US under its BlueOval SK joint venture with Ford.
More recently the company established a joint venture with Hyundai Motor to build a battery plant also in Georgia. By 2025, SK On and its joint ventures expect to have US production capacity of 150 gigawatt hours (GWh) of batteries per year.
Cheol-jung, who was appointed president of SKIET last December, said the company wants to set up a LiBS factory in North America to meet fast rising demand for battery separators.
"At the moment we are expanding our facilities in Poland's Silesia Province and we are also studying the possibility to advance to the North America market where we expect high growth."
The company total capacity to nearly double to 2.73bn square meters once it completes expansion of its Polish plant in 2024.
US based EV manufacturers have to source most components, including battery parts, locally or from free trade partner countries in order to benefit from tax breaks and other incentives under the US Inflation Reduction Act (IRA) which became law last year.