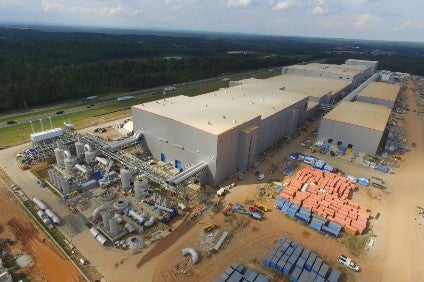 SK Innovation said it would hire 1,000 workers by the end of 2021 for the first of two electric vehicle battery plants being built in Commerce, about 70 miles northeast of Atlanta, Georgia.
They have a way to go: only 60 employees are now at the site. These are production supervisors, production/process/electrical engineers and quality/logistics specialists who will set up, work and serve as the trainers for the production workforce.
The exterior of the plant is complete and ground broken for the second.
SK Battery America claims both plants will have capacity to make enough battery cells each year for 300,000 EVs.
Customers will include VW, building the ID4 in Tennessee, and Ford.
The battery plants are part of a boosted US$2.6bn investment claimed to directly create 2,600 permanent jobs by 2024.
The first plant is scheduled to begin initial operations in 2021 with mass production in 2022. The second plant is expected to begin mass production in 2023.
There are plans to have 150 employees on site by the end of this year while hiring another 900 next year.