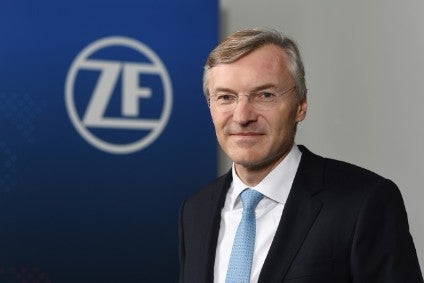 ZF says it faces "quite a struggle" regarding the availability of semiconductors as suppliers and OEMs around the world grapple with huge demand for chips.
Semiconductor shortages, described as a "perfect storm" by CLEPA secretary general Sigrid de Vries to just-auto recently, have been compounded by an uptick in automotive demand coupled with the requirements of countless of millions of consumers confined at home during national lockdowns during the pandemic.
This has sparked huge pressure on chip delivery as demand for gaming consoles, laptops and electronic products, has in part substituted for more traditional socialising outside government restraints on human movement.
The issue has also percolated to the top of the White House with President Joe Biden recently asking for US$37bn to bolster American supply chains as the semiconductor pinch continues to affect manufacturers worldwide.
It has equally garnered bipartisan support in the US, with  Senate Auto Caucus co-chairman, Rob Portman (R-OH), along with many other politicians, writing last month to National Economic Council director, Brian Deese, urging him to work with Congress in addressing the global semiconductor shortage facing vehicle manufacturing.
"We will have quite a struggle as capacity is the issue," ZF CEO, Wolf-Henning Scheider, told just-auto at today's (18 March) financial results briefing from the supplier's headquarters in Friedrichshafen in Southern Germany. "The political effect in this field – if one government starts to become active in this way it is not surprising that other governments are doing the same. Joe Biden is also quite foreseeable.
"There is general, heavy demand from the consumer and automotive sectors where factories are using their capacity at top level [as well as] the power outages in Texas. For a specific period, for a couple of weeks, we saw supplies were drastically reduced. "
As well as pressure on semiconductors for gaming purposes, the pandemic has also seen a massive rise in homeworking, triggering a colossal need for domestic consoles, while increasing CASE requirements in recovering economies are adding to chip sourcing needs.
With potentially one eye on American pressure to ramp up chips production, CLEPA recently highlighted greater semiconductor focus.
"I do think some in the industry are looking at the entire dimension of the events with some questions and maybe even some concern," said CLEPA secretary general, Sigrid de Vries "It is clear demand will continue rising and everybody wants to make sure there are as few risks as possible. It is not just a question of the number of suppliers; it is also the length and organisation of the supply chain.
"It is a perfect storm, absolutely. There are many things happening at the same time. There is a deep thinking going on in industry at how to look at the future. All the vehicle architecture is concerned – we are seeing such a transformation with the move towards electrification and the changes in the entire set-up in the vehicle that involve semiconductors and micro-electronics."
Some reports indicate the lack of chips could last for as long as six months, while others estimate volume losses of vehicles to be potentially around 200,000.
ZF posted 2020 Group sales down 11% to EUR32.6bn (US$39bn), while adjusted EBIT amounted to EUR1bn (2019: EUR1.5bn).
Net profit after tax amounted to -EUR741m.