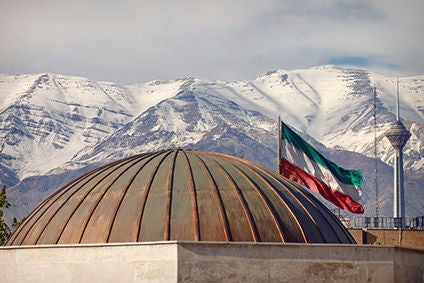 Saipa says discussions are "under way" to start production in a joint venture with PSA Groupe as yet further fruits of the recent sanctions lift against Iran become evident.
Tehran has seen a raft of Western companies take advantage of the new liberalisation after decades of swingeing international economic sanctions stifled investment in the country, which some believed to be attempting to enrich uranium for nuclear weapons.
Following courtship by Western automotive supplier bodies such as FKG in Sweden and FIEV in France, specific component makers and automakers are now starting to make their presence felt with a raft of announcements such as that from Bosch this week, establishing a Tehran office.
PSA and Renault have long held ties with Iran and the former has been particularly active of late, announcing a major US$436m deal with IKCO, which mandated 40% of components must be sourced domestically in the 50:50 joint venture.
Now PSA has turned its attention to IKCO domestic rival, Saipa and although details remain sketchy, both sides are discussing the establishment of a joint venture to produce Citroen models.
"Negotiations are under way and it will be a joint venture between Saipa and Citroen – as soon as the contract is signed more details will come out," a Saipa spokesman told just-auto from Tehran.
"Specifically, they [Saipa is] going to produce C4 from PSA. We [with Iran Khodro] are two rivals, two competitors. I don't think there is a conflict. The contract between IKCO and PSA does not have any concern with Citroen and Saipa."
A condition of PSA's agreement with IKCO was a 40% local content mandatory level, an ambitious target given the country has only just emerged from its harsh sanctions environment, but the example of Russia has shown how such a deal can significantly boost domestic supplier opportunities.
"[Local content] is the trend – Peugeot and Citroen [are] looking for local partners in order to facilitate production here," added the Saipa spokesman.
"The French side need [s] some local parts manufactured in Iran – it is a win win situation for both automakers because there are some facilities available in Iran that Citroen wants to use."
Renault also has a joint venture with Saipa and for more than ten years, Renault Pars, a joint venture with Iran's two main auto manufacturers, Saipa and Iran Khodro, has enabled the Renault Group to produce nearly 500,000 vehicles in the country.
In 2015, two new vehicles were manufactured: the Logan Pick-up with Iran Khodro and the Sandero with Saipa.
"In Renault, they have several parts makers here and they are using local parts makers," noted the Saipa spokesman.
FIEV has its own dedicated 'Club Iran' section, with president, Didier Hedin telling just-auto from Paris earlier this year the country was targeting a 2m vehicle market in 2020, increasing to 3m five years later, with the clear benefits that would bring to suppliers.
"For sure, French parts makers, they are already linked with Peugeot and Renault and will be involved very deeply in Iranian production, so it is an advantage," said Hedin. "We believe not only Renault, Peugeot, but other European car makers, more than probably from Germany and Italy.
"If you put all these factors together, you can understand it is [a] very nice piece of cake. All of these businesses, most probably, will have to be done via a joint venture. That means the time when we were just delivering CKD is finished. We will deliver some parts, but mainly tomorrow, it will be produced [locally] instead."
PSA and IKCO's joint venture will see a Tehran facility established to produce vehicles and whose platform the Iranian company will share to develop its own models, as well as the 208, 2008 and 301 Peugeot cars.