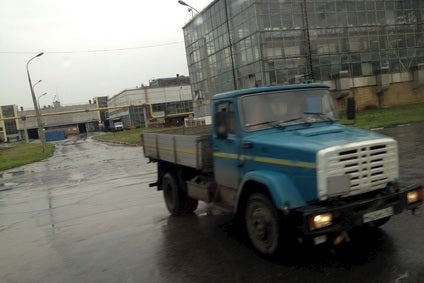 Moscow is debating the future of its automotive subsidy programmes as the Kremlin's coffers come under dramatic pressure as a result of plunging oil prices and tumbling exchange rates.
Both issues – combined with the sustained attack from international economic sanctions – are combining to depress Russian disposable automotive income yet further as the country continues to endure a raft of economic woes.
Earlier this month, Russia's Association of European Businesses (AEB) hailed July's 28% fall in vehicle sales as "almost good news" as the country's economy continues to reel from myriad economic and political challenges.
The country has had to brace itself for month after month of catastrophic falls in auto sales and although the rate of decline is starting to ease, Russia's series of generous automotive stimuli may be under threat as budgetary pressure ratchets up ever further.
The Kremlin has introduced a series of measures to boost the moribund market such as scrappage schemes, more favourable credit access and interest rate subsidies, but with its major export, oil, touching around US$42 per barrel, this week, the Exchequer is coming under a sustained squeeze.
"[The Russian] government is finalising the budget for the next year now and the last [currency] depreciation impacted – they are reshaping forecasts for the following year," EY (Ernst & Young) CIS Automotive Group Head, Andrey Tomyshev told just-auto from Moscow. "We will see the budget figures a bit later.
"What this budget forecasts, they are deciding the amount of subsidies for the current year. OEMs and suppliers ask the government to increase support, but money is limited."
The sharply contracting auto sector has seen Moscow introduce a relatively generous and sustained series of measures, which if not implemented, would have seen the market dive even further, but their future must be in some doubt.
"Since April, the government has introduced an interest rate subsidy programme and the share of credit sales increased up to 30% [but] still interest rates [are] higher than in Western economies," said Tomyshev.
"Interest rate subsidy is RUB20bn (US$287m) for [the] following three years, plus scrappage of RUB15bn for 2015. It is [also] around RUB3bn for municipal [automotive] purchases and RUB11bn for central government."
Despite being assailed economically on all sides, Russian First Deputy Prime Minister, Igor Shuvalov, still managed to strike a note of bravado at the recent St Petersburg International Economic Forum, noting: "Russian society does not need growth whatever the cost. What we need is good quality growth.
"There are no wizards around when your oil is US$100 a barrel. Society expects the government to make decisions when it is not US$100 a barrel."