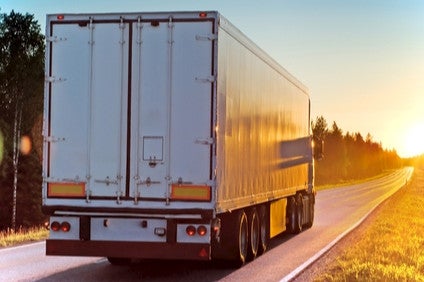 Rapidly rising content complexity in vehicles is triggering a surge in logistics demands from suppliers says one transport company, as more components means innovative ways have to be found to move them to assembly lines.
That increasing depth of on-board content is already to some extent a reality today with the plethora of active and passive safety systems, as well as hybrid and full-electric powertrains, but should partial or even fully-autonomous vehicles become the norm, suppliers will have to rely on ever-more efficient transportation to get goods to plants.
"What does a functioning supply chain do for us?" said logistics provider, Gebrüder Weiss key account manager, Matthew Harrison at last week's Central and European Eastern Automotive Forum organised by Adam Smith Conferences in Prague. "Supply chains can be a good story.
"Logistics can do a lot for all of us – if I am an OEM it helps me to [manage] parts I need – it helps me control my suppliers [and] get my parts to the line. It helps efficiency – efficiency in itself helps me to control costs.
"In the end it makes you more competitive – most customers want a supplier which is agile. What are the challenges? Complexity. The number of suppliers is increasing because of the number of components [and] customers have more demands. The customer is demanding more from cars."
Industry 4.0 and the developing of 'smart' factories able to marry swift advances in IT with component delivery, has also seen Gebrüder examine its own 'Logistics 4.0' for connectivity of goods and parts. "We started with a cloud function for transport management, which allows us to connect all parties in the supply chain without huge cost – [it] gives our customers visibility," added Harrison.
"Real-time visibility to see where my truck is in real time."
Globally focussed, this summer Gebrüder Weiss' reach expanded to Iran, whose tentative entry into normalised business relations with the West has seen a flurry of automotive activity with PSA and Renault in particular announcing major partnerships. To that end, the transport operator now offers direct consolidated freight links between Sofia in Bulgaria and Tehran.
Daily direct freight runs are made from the Gebrüder Weiss sites in Maria-Lanzendorf/Vienna (Austria) and Dunaharaszti (Hungary) to Sofia, where goods bound for Iran are consolidated. The standard transit time is usually six working days, departing on a weekly basis.
"The Bulgaria- Iran route also enables us to give our European customers rapid access to this growth region by land," said director and regional manager South-East / CIS at Gebrüder Weiss director and regional manager South-East/CIS, Thomas Moser.