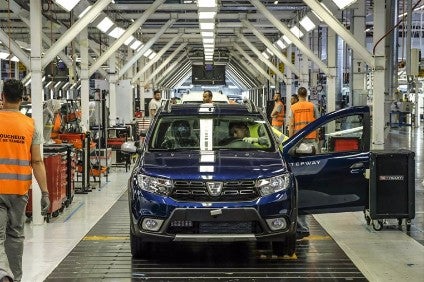 The millionth vehicle at the Renault-Nissan plant in Tangier has been completed just three years after #200,000 rolled off the line.
The milestone car was a blue Dacia Lodgy exported to Turkey. So far, 474,840 Sanderos, 320,078 Dokkers and 193,181 Lodgys have been manufactured in Tangier since the plant was opened as a source of low-cost cars in 2012. They were sold locally in Morocco and exported to 73 countries.
The first production line opened in February 2012 and a second line followed in 2013 and the plant is said to be the biggest car factory south of the
It operates three eight hour shifts a day, six days a week, with an annual production capacity of 340,000 vehicles focused on Dacia. Half of the brand's output worldwide is in Morocco at either Tangier or at the SOMACA facility in Casablanca.
Domestic market support is strong with Renault claiming it sells four of 10 vehicles in Morocco. SOMACA has produced Renault models since 1966 and Dacia since 2005.