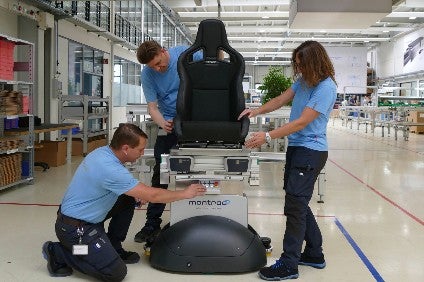 Recaro said it would be first manufacturer worldwide to use the Montrac intelligent rail and shuttle transport system for seat production.
The OEM and aftermarket supplier said it was moving towards networked internal logistics for maximum production efficiency and would soon use the rail and transport shuttle system.
Industry 4.0's "internet of things opens up new possibilities for intra-logistics since production and logistics processes can now be networked with the internet and each other", Recaro said in a statement.
It has commissioned Montratec, based in southern Germany, to redesign its systems. The result will be manufacturing operations converted into an interlinked production system using digital data tracking.
General manager Ulrich Severin said: "[It] will be fully linked to an ERP system, ensuring comprehensive data tracking and maximum transparency in all production processes."
In this production workflow, seats are carried by autonomously controlled transport shuttles on a branched monorail system and delivered to various workstations to be processed sequentially and completed.
A shuttle carrier, also from montratec, will be used so workstations can be connected without rails. This makes it possible to interrupt the monorail system in order to create open spaces for escape paths, transport routes and employee walkways between installed rail segments and attached workstations, without affecting the production workflow.
In this so-called open transport system, every shuttle knows its destination due to the decentralised intelligent control system. The result is optimised workflow with reduced cycle times, improving economy, speed and safety.
Shuttles have sensors that monitor routes as well as the space alongside the track. This allows for shock-free transport and maximum safety. The need to enclose the system is eliminated.