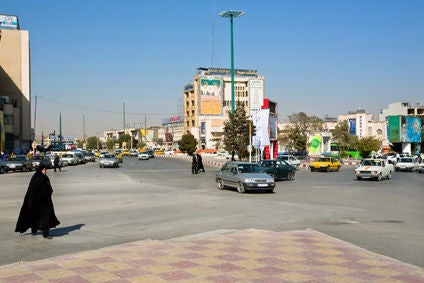 PSA Groupe says it is "very, very keen" to use its burgeoning relationships with Iranian automakers as a springboard for exports to the Middle East.
The French automaker sees enormous potential both for the Iranian market to grow rapidly from its current 1.3m production, but also for its ability to sell joint-venture vehicles in the region, even despite political instability in some areas.
"We are very, very keen to do it – [export] – we would like to make it profitable," said PSA Middle East and Africa EVP, Jean-Christophe Quémard from Tehran.
"There [are] clearly conditions for export [but it] depends on different elements. First, the bilateral relations between Iran and other countries. There are countries which are closed to Iranian products and there are different Customs [rates, but] there are possibilities.
"We want to make Iran a real production hub."
PSA has rapidly established itself at the forefront of a raft of industrial multinationals looking to either set up in Iran or, as in the case of so many French companies, to rekindle historical ties.
Along with its French compatriot, Renault, PSA finds itself among a host of automakers and suppliers evaluating Iran, joining those from Scandinavia and Germany, who see major potential to capitalise on a market with huge pent-up demand after years of international economic sanctions.
"We have the feeling we are in advance, PSA will be the French business which will have invested the most in Iran in the year that has just passed," added Quémard.
PSA also said it was keen to move its engine supply from Euro V to Euro VI standard, echoing comments made by some concerning pollution levels in Iran due to outdated equipment.
"Of possible particular interest for some suppliers may be the Iranian government's wish to reduce what appears to be heavy pollution, especially in the capital Tehran, which lies in a bowl prevalent to smog issues," Frost & Sullivan regional head, Automotive & Transportation, Middle East and North Africa, Subhash Joshi, told just-auto last year shortly after attending the Iran Automotive Industry International Conference in Tehran.
"Pollution is the big concern in Tehran. When I was there, I was around 15km from snow-clad mountains, I was not able to see them. The government is make [ing] sure only environmentally-friendly vehicles come to the market.
"When it comes to the commercial vehicle side, most of it is diesel. Anything which can help them control pollution is more than welcome."
The lifting of sanctions has paved the way for European supplier associations such as FKG from Sweden and FIEV in France to evaluate the market and lead significant delegations to Iran.
Bavaria's Industry Assocation – the VBW – (Vereinigung der Bayerischen Wirtschaft) also opened a liaison office in Tehran in 2015 to provide companies with advice on accessing the labour market and assisting with contacts to potential partners and political decision makers