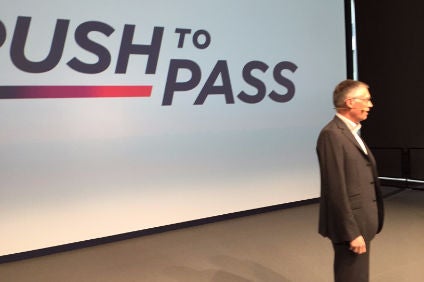 PSA Peugeot Citroen says it wants to embrace the challenges of the current "sometimes chaotic" environment in its 'Push to Pass' initiative launched yesterday (5 April) in Paris.
The plan includes launching a 1t pick-up, seven hybrids and four electric vehicles, as well as a ten-year programme to restart operations in North America and follows the French automaker's 'Back in the Race' drive, which has seen a return to profitability.
"Thanks to the implementation of the Back in the Race plan, we have been able to rebuild the fundamentals of the company," said PSA chairman, Carlos Tavares at the manufacturer's Avenue de la Grande-Armée headquarters in central Paris. "We are going to build the Push to Pass and strategic growth plan.
"Obviously this is linked to challenges in the surrounding world and challenges we recognise as sometimes chaotic. We would like to recognise the reality of those challenges. We want to integrate this in our Push to Pass."
The PSA chief also highlighted the changing nature of car ownership, stressing the need to go "beyond ownership of the object" to the "experience of the object," with consumers focusing on mobility itself rather than the vehicle.
"We must have a portfolio of businesses rather [than] one business," added Tavares. "Quite obviously, nothing is local any more, everything has become global.
"These sometimes chaotic and brutal challenges are important for a company which is agile like PSA. We can take these challenges to give the company a brighter future – we want to take advantage of the challenges of the chaos around us.
"We can be a benchmark in the automobile world. Push to Pass is a profitability growth plan – a plan which will cover a six-year period form 2016-2021 in two three-year sections.
"Back in the Race was a plan for recovery and turn-around and the Push plan is a bottom up plan developed by 16 strategic teams."
PSA Groupe – Tavares was keen to stress the French spelling to emphasise the automaker's roots – aims to reach an average 4% automotive recurring operating margin in 2016-2018, and target 6% by 2021.
It will also target revenue growth of 10% (versus 2015) by 2018 and an additional 15% revenue growth by 2021.
PSA says it will also introduce a dividend policy from 2016 financial year based on a 25% payout ratio.
The Group posted full-year net profit for 2015 of EUR1.2bn (US$1.4bn).