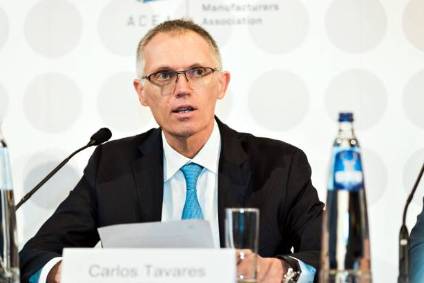 PSA Group has posted a positive profit result for the first half of the year despite the heavy impact of the COVID-19 pandemic and much reduced revenue.
PSA Group has announced a 3.7% automotive division adjusted operating margin of EUR731m on EUR25.1bn revenue. The group booked EUR595m net profit and also reported EUR153m automotive positive free cash flow, excluding working capital, and "strong financial security" with EUR23.2bn in reserve.
Group revenue fell, however, by 34.5% year on year with automotive division revenue off 35.5% to EUR19.6bn due to lower volume and market model mix (-40.5%), a fall in sales to partners (-0.5%) and the impact of exchange rates (-0,6%) but revenues benefited from the positive effect of product mix (+3.4%) and price (+0.4%), plus other factors (+2.3%).
Group adjusted operating income fell 84.5% to EUR517m with automotive adjusted operating income down 72.5% at EUR731m.
"This 3.7% profitability level was reached despite the sharp decline of automotive markets and thanks to a positive product mix and cost reductions," PSA said in a statement.
Group adjusted operating margin reached 2.1%, down 6.6 pts compared with H1 2019.
Other operating income and expenses amounted to -EUR35m, compared to -EUR847m a year ago.
Group net financial income and expenses improved to EUR52m from -EUR166m.
Consolidated net income fell EUR1,672m to EUR376m.
Net income, group share was EUR595m, down EUR1,237m.
PSA chairman Carlos Tavares said: "This H1 result proves the group's resilience as a reward of six consecutive years of intense work to increase our agility and lower our break even point.
"The group is also weathering this crisis thanks to the commitment of the teams, focused to deliver clean, safe and affordable mobility for our customers.
"We are determined to achieve solid rebound in the second half of the year while finalising the birth of Stellantis (the PSA-FCA merger) before the end of Q1 2021."
PSA Finance reported adjusted operating income of EUR463m, down 9.7%.
Faurecia adjusted operating loss was -EUR159m.
The free cash flow of manufacturing and sales companies was -EUR4,704m of which -EUR3,601m was for the automotive division. Automotive free cash flow was positive at EUR153m excluding working capital.
Total inventory, including independent dealers and importers, was 505,000 vehicles at 30 June 2020, down 24% year on year.
Net financial position of manufacturing and sales companies was EUR2,886m of which EUR6,957m was for the automotive division.