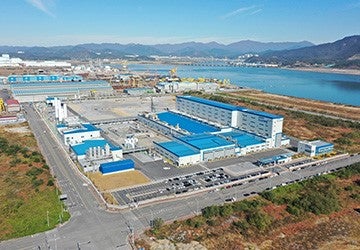 POSCO Chemical Company this week signed a 10 year agreement to supply local battery maker Samsung SDI with key materials for its electric vehicle (EV) battery cells, according to South Korean reports.
Posco Chemical, part of steel and chemicals giant POSCO Holdings, has agreed to supply nickel cobalt aluminium (NCMA) cathode materials worth KRW40trn (US$32.5bn) by 2032 to Samsung SDI. Cathode materials typically account for around 40% of the cost of EV battery cells and are essential for energy storage and output.
Posco Chemical produces mainly nickel cobalt manganese (NCM) cathodes at a plant in Gwangyang in South Korea and recently added NCMA cathode materials, which offer increased thermal stability with the addition of aluminium to the mix.
The deal is said to be Posco Chemical's first cathode materials contract with Samsung SDI, a unit of the country's largest conglomerate Samsung Group and estimated to be the world's sixth largest EV battery manufacturer. Most of Posco Chemical's battery materials supply contracts to date have been with LG Energy Solution, the world's third largest EV battery producer.
Posco Chemical president Kim Joon-hyeong said in a statement: "Our efforts paid off to expand our customer base and portfolio, as well as enhance business competitiveness in response to the rapidly growing EV market."
Samsung SDI started using NCMA cathodes in its latest Gen 5 batteries, switching from nickel cobalt-manganese (NCM) cathodes. The cathode materials from Posco Chemicals are understood to be destined for Samsung SDI's US based battery joint venture with Stellantis as well as other projects.