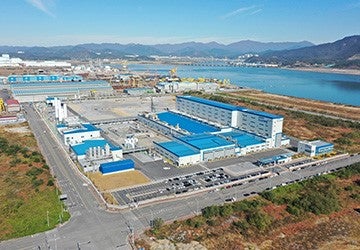 POSCO FUTURE M Company, part of South Korea's Posco Group, has confirmed that the Canadian government has agreed to provide significant subsidies for its EV battery materials joint venture with US automaker General Motors.
The two companies last year agreed to invest US$633m to build a battery cathode materials production plant in the Canadian province of Quebec under a joint venture called Ultium CAM Company, to help meet demand from the carmaker's growing network of EV battery joint ventures. The facility, the first of its kind in Canada, is expected to be completed in the second half of 2024 with a production capacity of some 30,000 tons of cathode materials annually.
Ultium CAM is said to have secured CAD300m (US$220m) in funding from the Quebec provincial government, which would further strengthen Quebec's role in the North American EV battery supply chain. The public funding represents a sizeable proportion of the capital needed for the project.
Canada has significant resources of key battery minerals under development, including lithium, which will be needed to meet growing demand for EVs in North America.
Earlier this month South Korea's LG Energy Solution and Stellantis secured funding from Canada's Ontario provincial government potentially allowing construction of their US$5bn electric-vehicle battery module joint venture plant to resume (resumption not yet confirmed though).
In a separate report, Posco Group has just signed an agreement to source natural graphite from Faru Graphite, a Tanzania-based mining subsidiary of Australia's company Black Rock Mining. Under the contract, Posco has agreed to source 750,000 tons of natural graphite worth some US$10m over the expected 25-year lifetime of the mine for use in its global cathode plants.