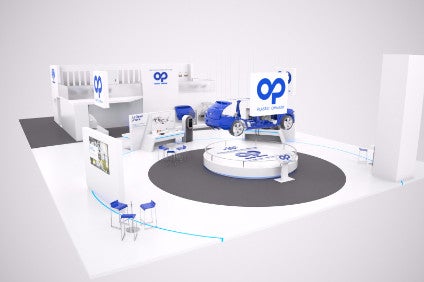 Plastic Omnium says its high-pressure hydrogen storage prototype has a recharge time of three minutes compared to several hours for electric vehicles.
The French supplier was outlining the hydrogen technology at last week's Paris Motor Show and highlighted its cooperation with Israeli company ELBIT, to create the POCellTech start-up working with fuel cells and supercapacitors.
A joint research centre recently opened in Caesarea, Israel, while Plastic Omnium is also working with CEA in France, MIT in the US, the Israeli Institute of Technology and the Technical University of Denmark, although the French company is equally working on EVs.
France is currently engaged in an in-depth analysis of fuel provision, following the fallout from the Volkswagen scandal, with a high-profile governmental Commission presided by Secretary of State for Energy, Segolene Royale, although Plastic Omnium is not involved in it.
"We have not participated in the Commission Royale," Plastic Omnium chairman and CEO, Laurent Burelle told just-auto at the Paris Show. "We want to be a multi-supplier of multi-energy. We want to supply and work with the safest products at the best price.
"[The] SCR technology we have is excellent, not onerous, is efficient and performs well. What we know is there are worldwide clients who put their trust in us for [our] systems."
Burelle nonetheless insisted recruiting young engineers for the future remained challenging and was "insufficient," while there was a"struggle" to find multi-lingual and international candidates. Despite that, the Plastic Omnium CEO was bullish the supplier's internal organisation could help bolster retention.
"We believe the technological challenges can be accommodated by training to motivate engineers," he added. "We are well-positioned at Plastic Omnium – it is long-term by definition.
"Plastic Omnium is about reducing weight in vehicles, reducing fuel consumption and reducing CO2. The infamous NOX, which has come out of the shadows, we have developed an SCR system for ten years to reduce and control toxic gases – the system has been wanted by 13 automakers.
"The European norms of 95g will be reached in 2020 and to reach that we have to have clean diesel. Perhaps the laws will change, if 95g is maintained, we have to push the technology available."
As well as showcasing its hydrogen storage prototype in Paris, Plastic Omnium also highlighted its presence on the emissions control market through its SCR system, as well as its pressurised fuel tank technology for hybrid vehicles.
Plastic Omnium has two automotive divisions – Auto Exterior and Auto Inergy, which equip worldwide, one in seven bumpers and one in five vehicles in fuel systems respectively.