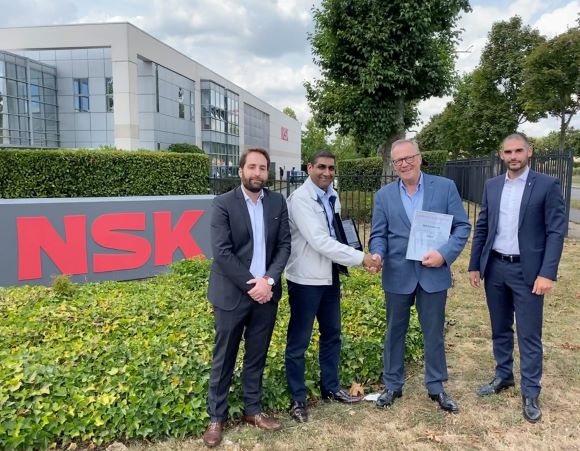 Toyota Motor Europe (TME) supplier NSK Europe has received two awards from its customer: a Certificate of Recognition (Supply) and a Superior Performance Award (Quality).
TME typically presents the awards at its showpiece annual business meeting in Brussels, Belgium, in front of several hundred industry representatives but, with the pandemic still a concern, the automaker instead organised a virtual presentation.
TME reviews the performance of its suppliers over the previous financial year in a range of different categories. The supply recognition category is given to vendors with outstanding delivery performance.
To judge the winners, TME assesses KPIs (key performance indicators) which include overall delivery performance, encompassing service parts and accessories with a Certificate of Recognition, which for 2022 (covering the 2021 financial year period) included NSK.
The Quality award goes to a single supplier each year after TME uses PPM as a common measure of the number of defects that occur in a million parts. Warranty claims and response to quality issues are among additional supplier criteria considered for this award.
Rashmi Shah, head of TME purchasing, presented both awards and accompanying certificates to Franck Keiffer, managing director of NSK's European automotive business unit (EABU) at Guyancourt, France, where the team responsible for TME is located.
EABU supplies several different products to TME engine and transmission plants in Poland and Wales, including ball bearings, tapered roller bearings and rocker arms. The products arrive at TME from factories in Kielce (Poland), Peterlee (UK), Takasaki (Japan) and Saitama (Japan).
NSK also supplies wheel bearings to TME assembly plants in France, the Czech Republic, Turkey and South Africa.