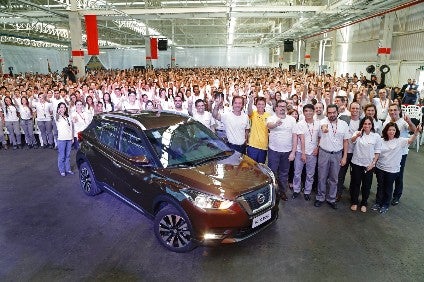 Nissan Brazil has started a second shift at its Resende factory.
During a visit to the plant, Nissan Brazil president Marco Silva welcomed the 600 new workers hired for the shift added to meet rising local demand for the Kicks compact crossover.
The plant started assembly of the new model last April. The wholly owned factory is in Southern Rio de Janeiro state.
"This is a major milestone for Nissan," said Silva. "Local production of the Kicks demonstrates the company's healthy growth. We are strengthening our commitment to the country with investments and the creation of hundreds of jobs."
Kicks output in Brazil followed a spend of BRL750m (US$236m) tooling up the factory. New workers joined the production process gradually, after being trained and prepared.
"Nissan has world class manufacturing standards in Brazil with a focus on product quality, sustainability and efficiency," said Silva. "Therefore, a comprehensive training programme is pivotal so that employees may perform their activities with autonomy, precision, efficiency and safety."
The new workers underwent a four-stage training course. They were hired through Formasan, a program developed specifically in collaboration between Nissan and SENAI, a Brazilian national service for industrial training. Those who passed skills assessment tests after the programme continued on to the automaker's recruiting process.
Resende now has 2,400 employees divided into two shifts.
The plant builds the Kicks, the March and Versa compact models plus one-litre I3 12v and 1.6-litre I4 16v powertrains.