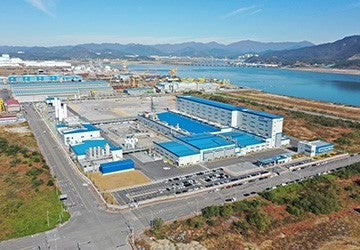 South Korea's Posco Future M, formerly known as POSCO Chemical Company, announced plans to build its first plant dedicated solely to the production of nickel, cobalt and aluminium (NCA) cathode materials for electric vehicle (EV) batteries, in Pohang in the country's North Gyeongsang province.
The company, part of South Korea's largest steel and chemicals group controlled by POSCO Holdings, announced its new name last month.
It has been expanding rapidly into the EV battery materials business in the last two years, having just completed construction of a high nickel NCMA (nickel, cobalt, manganese, aluminium) and NCM (nickel, cobalt, manganese) cathode materials plant in Gwangyang city at the end of last year with an annual production capacity of 90,000 tons.
The company also started building a 30,000 ton/year NCMA cathode materials plant in Pohang in April 2022 which is scheduled to be completed in 2024.
NCA is said to be more energy efficient than NCM and NCMA as it allows for higher battery density and power output. Cathode materials typically account for around 40% of the cost of EV batteries and are key in determining EV range, power output and charging speed.
Posco said its decision to invest KRW392bn (US$300m) in a new cathode plant followed an NCA supply contract signed with South Korean EV battery manufacturer Samsung SDI earlier this year worth KRW40trn (US$31bn) over 10 years. The plant would have an annual production capacity of 30,000 tons per year when completed in early 2025 with construction scheduled to start in the first half of this year.