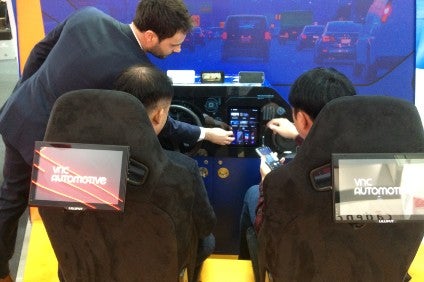 VNC Automotive and Alpine today announced a partnership which has developed a concept infotainment 'Add-On Box'.
The pair said Alpine had been working on the "fully loaded, feature rich device that sits discreetly within the vehicle, and allows car makers to vastly expand the functionality of their infotainment systems". Consumers in turn will benefit from pre-configured and seamless access to services and applications.
The developers said: "After the steady proliferation of smartphone integration in-vehicle over the last decade, 'black box' system-on-chip (SOC) devices are becoming increasingly popular with auto manufacturers, and for good reason.
"Essentially a smartphone without a screen, it removes the burden of making a myriad of consumer phones play nicely with embedded head units and hence the problem of continually updating the infotainment system itself. The black box approach provides a consistent, intelligent applications hosting platform and the head unit acts as a big display – together providing next-gen infotainment."
A user connects the box once only. The partners claim no interoperability issues between the box and the head unit which can be a constraint with handsets.
The partners said automakers, when deciding on smartphone connectivity, have to consider which connectivity standard to implement and claimed popular standards such as CarPlay and Android Auto "still appear fragmented depending on vehicle model or geographic region".
Yet demand from consumers for intuitive navigation and media streaming remains widespread.
"In this sense the Add-On Box acts as a good leveler. It provides popular applications and services for everyone no matter what handset, head unit or global location," they said in a media release.
Tom Blackie, CEO of VNC Automotive said: "We have a rich history of working with Alpine to support their best in class infotainment systems and VNC Automotive is delighted to partner on this latest project. Our software provides the connectivity protocol between the Add-On-Box and the head unit. Instantaneous access and virtually no latency are everything when it comes to the IVI user experience and this is the expertise we brought to the project.
Thorsten Kueper, senior manager of product strategy at Alpine added: "Off the back of CES in January, demonstrating this proof of concept at Mobile World Congress is a showcase of the development work with VNC Automotive. With now over 1bn car users around the world, all wanting easy access to maps, multi-media and more, the Alpine Add-On Box will be a vital addition to many drivers in-car experience."
Blackie said: "Whilst smartphone integration remains a must for virtually all incoming connected car projects, for production vehicles starting 2020-2023 we've seen a dramatic uplift in black box-centric IVI.
"This is an increasingly neat approach by the likes of Alpine and their automakers to provide additional infotainment, entertainment and telematics applications. Reliance on third party standards and frequent IVI software updates are removed, putting the automaker back in control, with a solution that's future-proof."
The box comes standard with features including navigation and media player. Access to additional applications is via a 'white label' app store and can be fully branded and controlled by a car manufacturer or original equipment manufacturer (OEM).
The box is due for release early in 2020.