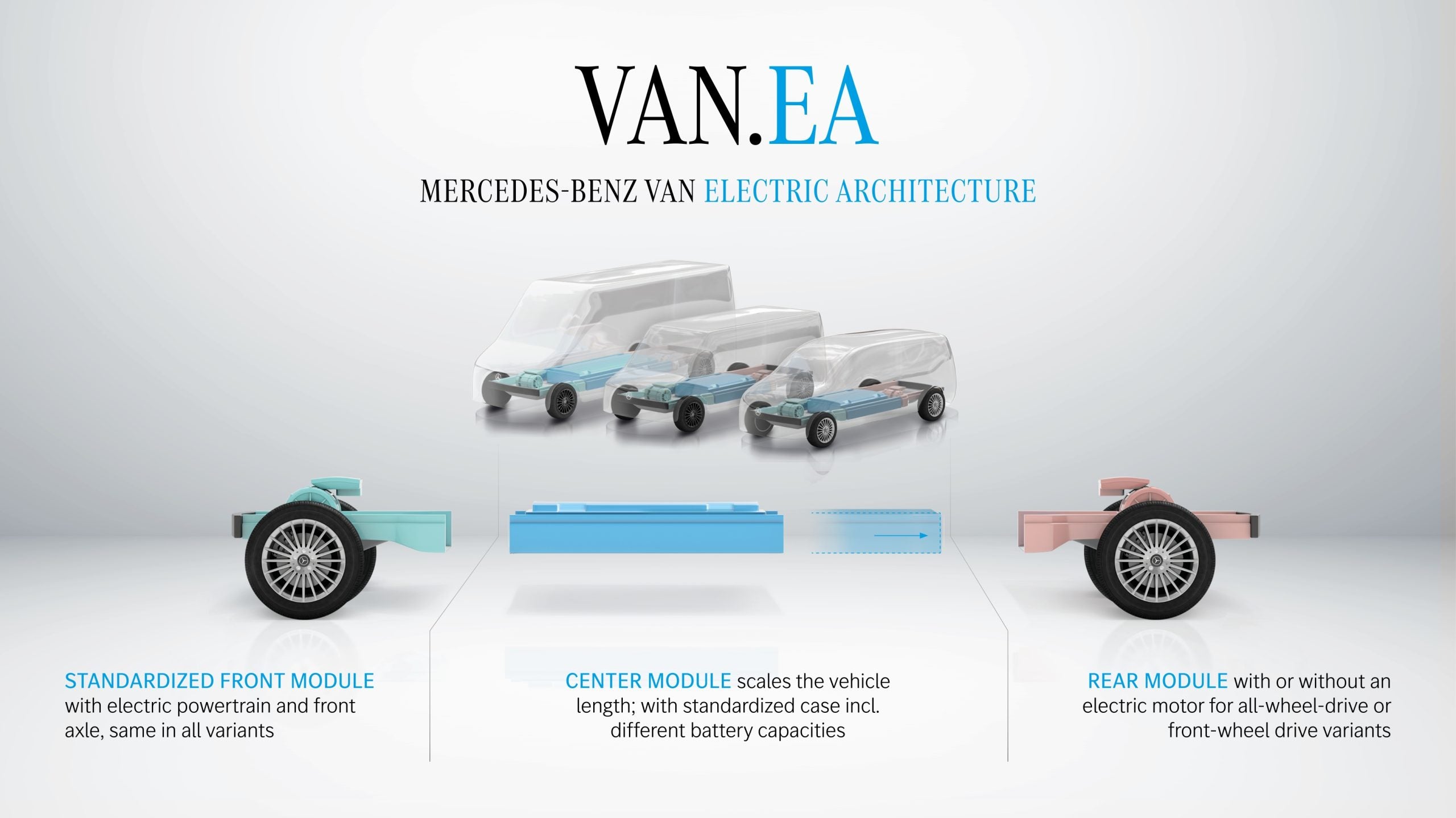 Starting in 2026, all newly developed midsize and large Mercedes-Benz vans will be based on one single, modular and scalable architecture called VAN.EA, or Van Electric Architecture, developed for purpose built battery electric vehicles (BEVs).
The automaker plans to halve model variants compared to current ICE vans.
VAN.EA consists of three blocks. The front one consists of the electric powertrain and the front axle and is the same in all variants. The centre block scales the vehicle length and houses a standardised battery case in which different capacities are installed. The rear module will be available in two versions: with additional electric motor for all wheel drive variants and without for front wheel drive variants.
A VAN.EA-P variation is for passenger versions and has a planned range of 500km (310 miles) with SAE Level 2 automated driving planned for launch and SAE Level 3 by the end of the decade.
VAN.EA-P stands for privately positioned vans in the midsize segment with a new level of luxury. Whether for lifestyle-oriented customers with the highest standards, as a VIP shuttle, as a locally CO2- emissions free mobile office or for leisure-active families: Due to the innovative Mercedes-Benz Operating System (MB.OS), VAN.EA-P is "always on" and masters any daily challenge. With a planned range of well over 500 kilometers (~310 miles), it is perfectly suited for all kinds of activities, even outside cities. SAE Level 2 automated driving is planned for market launch, SAE Level 3 is planned to be realized by the end of the decade.1
VAN.EA-C is for premium mid and large commercial vans.
With MB.OS, future vans will offer more digital extras for commercial customers including access to third party apps. SAE Level 4 is also planned for the end of the decade "to address the business potential of driverless transportation.
Europe is the largest market with a 60% share of worldwide sales. But "substantial growth potential is being seen in the United States for premium commercial large vans" hence VAN.EA-based commercial and private luxury vans will be added to the range. This will be the first time a "privately positioned midsize luxury van" will be offered there.
The range of factory built RV vans will be expanded with a new line of fully electric midsize and large camper vans.
Courier, express and parcel services (last mile delivery) markets have annual growth of 6%-8% per year and Mercedes-Benz Vans focuses on the upper price bands of the last mile delivery industry where it intends to offer a specific factory version for the first time.
The first eLCV plant is Jawor, Poland.
In addition to the eSprinter and the Sprinter vans with ICE drivetrains, the large cab VAN.EA chassis will be built in Duesseldorf, Germany. The plant in Ludwigsfelde, the second of two plants in Germany, will continue to produce Sprinter and eSprinter and will shift to become a base for eVan customisation. Electric midsize vans will also be built in Vitoria, Spain.