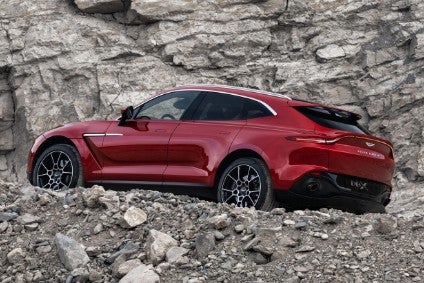 Under a new agreement, Mercedes-Benz is planning to lift its stake in Aston Martin to up to 20% and will also give Aston Martin access to its advanced technological systems.
Under what is described as a 'strategic technology agreement' Mercedes-Benz AG's equity stake in Aston Martin is to be increased in several stages up to a maximum of no more than 20.0%, in exchange for access to advanced technologies, including electric and hybrid powertrains.
Aston Martin is targeting volumes of c.10k units, revenue of approximately GBP2bn and Adjusted EBITDA of approximately GBP500m by financial years 2024 / 2025, underpinned by the Strategic Cooperation Agreement with Mercedes and targeted annual capital expenditure of GBP250m-GBP300m per annum between 2021 and 2025.
Aston Martin said the agreement provides access to a range of world-class technologies, including powertrain architecture (for conventional, hybrid, and electric vehicles) and future oriented electric/electronic architecture, for all product launches through to 2027.
The company said it removes the costs and risks associated with developing these technologies, enabling Aston Martin to focus its investment in other areas and expand its product portfolio.
Lawrence Stroll, Executive Chairman of Aston Martin Lagonda said: "We have developed a new business plan targeting revenue of GBP2bn and GBP500m of adjusted EBITDA by 2024/25. This reflects the technology agreement and the delivery of new, compelling vehicles to achieve these growth ambitions."
Tobias Moers, Chief Executive Officer of Aston Martin Lagonda said: "I am very excited to have joined the business to lead this transformation. I am incredibly impressed by the great work that has been delivered by the whole team here at Aston Martin. For DBX, the brand's first SUV, the team at St Athan has followed a quality-led ramp-up as appropriate for our luxury product positioning and we are now delivering to meet customer demand.
"We have updated our plans for the business, incorporating the benefits of our enhanced partnership we are announcing today. We have also today reported results for the third quarter. We have made excellent progress reducing sports car inventory at our dealers and are ahead of plan, with an acceleration in Q3.
"Today's expansion of our partnership with Mercedes-Benz AG is a critical step towards achieving our goals for Aston Martin. The capabilities of Mercedes-Benz AG technology will be fundamental to ensure our future products remain competitive and will allow us to invest efficiently in the areas that truly differentiate our products."
Aston Martin also reported Q3 revenue of GBP124m and Adjusted EBITDA loss of GBP29m (Q3 2019: GBP244m and GBP43m respectively); cash of GBP307m at 30 September 2020 and net debt of GBP869m (31 December 2019: GBP108m and GBP988m).
It also said it has reduced stock levels and that the St Athan factory making the DBX is now running at full rate.