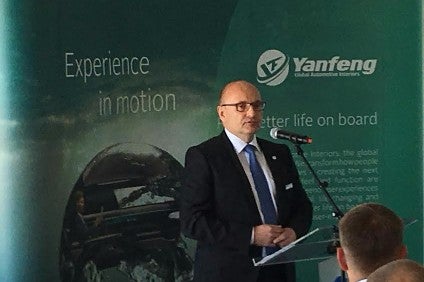 Yanfeng Automotive Interiors (YFAI) says the emergence of megatrends such as autonomous driving will present it with significant business opportunities as it looks to capitalise on its joint venture with seating specialist, Adient.
The Chinese supplier made its remarks at the opening of its new production plant in Planá nad Lužnicí in the south of the Czech Republic last week (8 June), producing instrument and door panels for passenger cars in a further piece of its business jigsaw designed to push towards becoming a US$10bn company.
The factory – around two hours south of Prague – will now gradually ramp up manufacture eventually taking on up to 500 skilled staff by 2021.
"Megatrends are a unique opportunity for us," YFAI CEO, Johannes Roters told just-auto on the sidelines of the Planá nad Lužnicí site opening. "For example, when autonomous driving comes, the interior is more important. Silicon Valley [companies] like Google, they see the interior of the future different from today.
"As Yanfeng we have an engineering office in Silicon Valley. What of those traditional plastic parts [for example], we see more smart parts like smart surfaces on the inside of the car, also ambient lighting.
"We are focusing on this future interior and in Frankfurt [IAA] we will show our next IM18 car where we will show the interior of the next generation. You will see how you can change the inside from a family mode to something like office mode.
"When we set up our vision; "Better Life on Board," the word [s] "on board" was a big question mark. Today it is reality – you go on board a car. There are still a lot of challenges but I believe in the next five to ten years you will see the reality. The show car in Frankfurt, 60%-70% will be ready for the next generation of cars."
The opening ceremony in Planá nad Lužnicí – attended by the Chinese Ambassador to the Czech Republic and a raft of government representatives from Prague – is the latest salvo in a frenetic round of activity in Central Europe which saw YFAI also unveil its Automotive Business Centre in Bratislava a few weeks ago and the inauguration of its Technical Centre in Trencín, Slovakia.
In addition to these locations, the supplier also has a plant in Žatec manufacturing door panels, floor consoles and other interior components in the Czech Republic as well as production sites in Papa, Hungary and Námestovo, Slovakia.
New perceptions of what consumers want from their vehicles will drive further opportunities for suppliers such as YFAI, whose push into Central and Eastern Europe with its skilled workforce and competitive labour rates, is building on the need for a widening range of technologies.
"If you want entertainment, then you want a different set up, or [equally] an office," added Roters. "[Some] people like maybe a purely functional car from A to B, others may want massages, whatever it is. This gives us opportunity to differentiate. Clean air is one of the elements of the future [as perhaps car sharing becomes more prevalent] and we will show some ideas in Frankfurt.
"The other thing, maybe some people will believe you will not own a car any more. These many challenges will require many responses. Now shared mobility [is happening] and the car is [perhaps] full of rubbish – maybe we need people who take [cars] and clean them."
YFAI VP & general manager Europe & South Africa, Jochen Heier, added the supplier was walking closely on securing customer feedback and was also involved with OEMs on their future projects.
"We don't see us as simply delivering five components – we see ourselves as the leader for total interior and for this our strategy is to work with partners," Heier noted to just-auto in Planá nad Lužnicí. "We said we will be the integrator bringing new technologies together.
"This integrated reality is very important for us. Questions are how cities will respond to autonomous driving – people need to develop answers here. Every time you touch it, you create more questions than answers.
"In Silicon Valley, when you talk to Google, how they think and work, or Tesla, there are different ways to address these issues."
YFAI has already recruited 170 staff for its latest plant in Planá nad Lužnicí, with this number gradually increasing to 300 by the start of next year and rising up to 500 by 2021.
The supplier is currently looking for quality control or engineering graduates as well as operators and staff for the tool maintenance department.