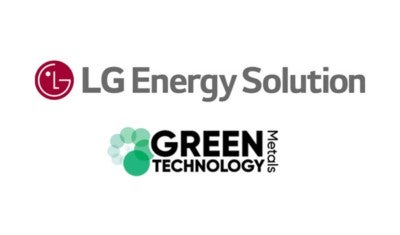 LG Energy Solution said it had signed a contract with Australian mining company Green Technology Metals (GT1) for the supply of lithium concentrate from mining operations in North America.
It had also invested AU$20m to acquire an 8% stake in GT1 at AU$0.92 per share, a 28% premium on the company's average share price in the previous three months.
GT1 owns and operates four lithium mines in North America and LGES has agreed to acquire 25% of the output of the company's Seymour Project in Canada for five years from the start of operations which is expected in 2025.
Pricing for both spodumene and lithium hydroxide has been agreed based on a formula linked to the prevailing market price of lithium hydroxide.
LGES said its equity investment validated the Seymour project which has estimated lithium reserves of 10m tonnes, and supports GT1's strategy of becoming North America's leading lithium producer.
LGES is South Korea's largest and most ambitious EV battery manufacturer and is investing heavily in new capacity in North America and in other parts of the world, including in joint ventures with Ford, GM, Hyundai-Kia and Honda and as standalone projects.
It also recently also signed battery supply deals with Toyota and Isuzu.
LGES chief production officer Kim Myung-hwan said in a statement: "Ahead of the US Inflation Reduction Act taking effect, we have proactively obtained competitive core minerals [in North America]. Our focus is on delivering the utmost value to our customers through stable and differentiated raw material supply, ensuring cost competitiveness."