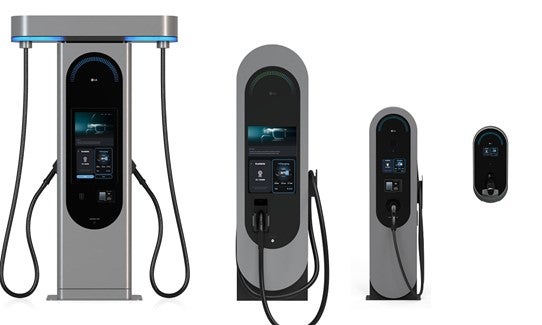 LG Electronics (LG) announced this week its HiEV Charger unit, formerly known as AppleMango, began production of electric vehicle (EV) charging stations, as South Korea's largest conglomerate moved to claim a significant presence in the fast-growing global EV charger market.
During a ceremony to mark the start of production, HiEV Charger unveiled its new range of charging stations which includes 7kW wall-mounted and stand-type units and 100kW and 200kW) fast-charging models. The company said the units can be easily installed and are suitable for use in multiple environments such as homes, office buildings and other commercial facilities.
LG said the new-developed chargers can charge two EVs at the same time and have a number of built-in safety features including electrical and thermal protection during the charging process as well as being water and dust-resistant. Their slim design helps reduce space requirement and they can be managed using smart features such as connector lock detection and remote updates.
LG said HiEV Charger aims to deliver differentiated solutions and enhanced customer experiences by tapping into the group's "well-established capabilities in manufacturing, quality control, after-sales service and supply chain management to create the foundation necessary to achieve sustained success in the EV charging solution business".
After the initial domestic market roll-out, LG plans to launch its EV chargers and "related collaborations" in global markets. The company cited research by management consulting firm Roland Berger which forecasts global demand for EV chargers to grow to USD186bn annually by 2030, as global EV sales continue to surge.
Suh Heung-kyu, vice president and head of the Electric Vehicle Charging business division of LG Electronics Business Solutions Company, said in a statement "the start of EV charger production marks a significant milestone for LG, propelling us on a journey to become a total EV charging solutions provider. We will focus on delivering convenient and fast EV charging solutions for EV owners and differentiated EV charging solutions offering diverse form factors and new services for our valued partners".