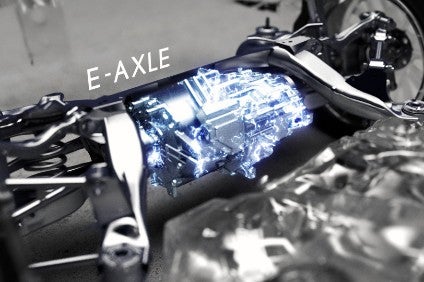 Toyota premium brand Lexus has revealed core Lexus Electrified technology called Direct4, a new electric drive control system designed for the next generation of battery electric and hybrid electric vehicles.
Direct4 precisely controls the delivery of drive torque from front and rear electric motors and braking force to all four wheels. By automatically adjusting the balance of front and rear wheel drive, the system adapts the driving conditions to the driver's intentions, changing the driving feel and giving the car the best driving posture. The system uses a front and rear e-axle, each featuring a high torque electric motor and transaxle, focusing on optimum drive force distribution. As the motor is directly connected to the wheels by a single driveshaft, it operates without delay.
Its operation is claimed to be intuitive and highly responsive, giving the driver a genuine sense of being fully connected with the vehicle. It is also said to provide an ideal balance of predictability and excitement, with powerful, linear acceleration and exhilarating cornering.
The system is also engineered for quietness and comfort.