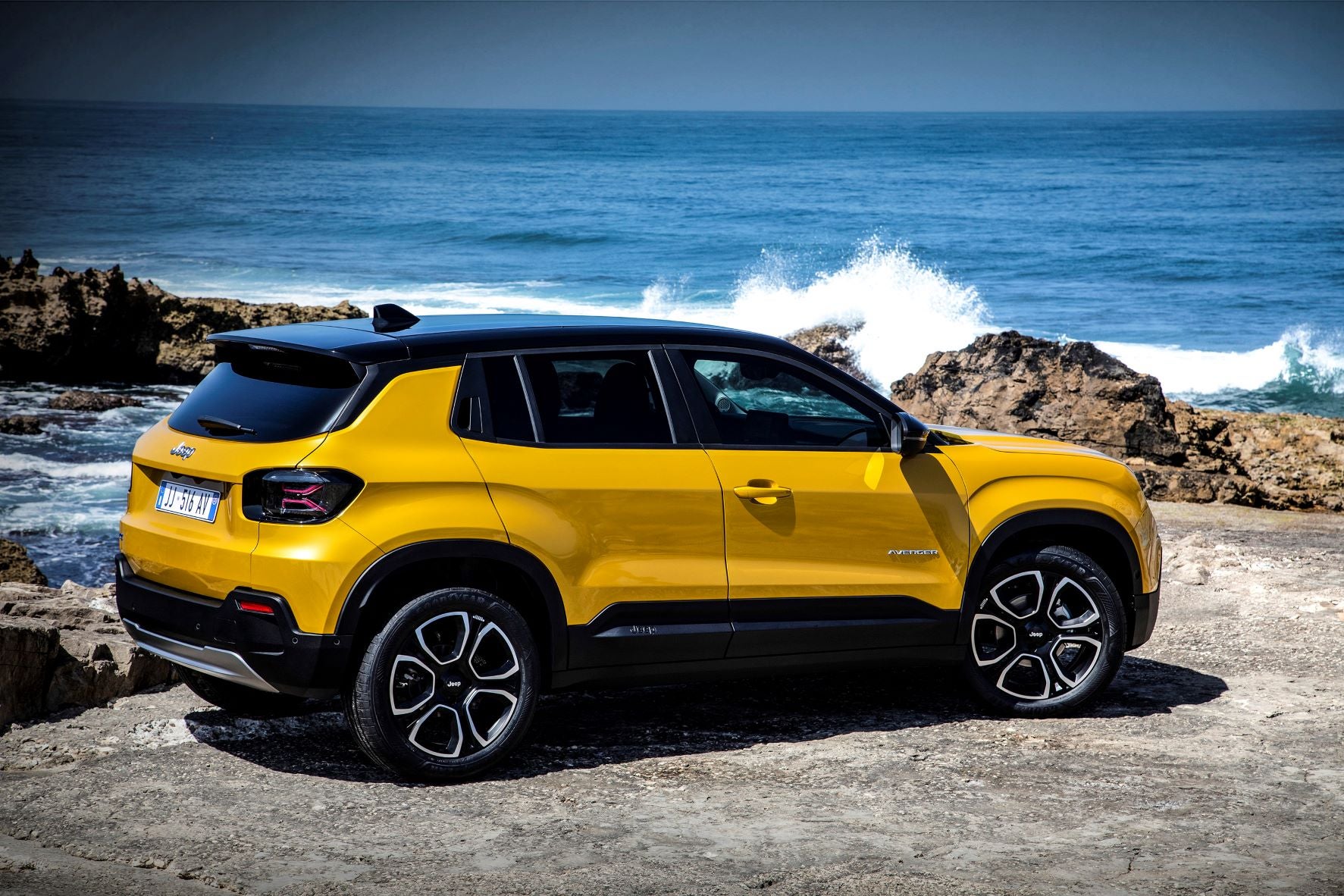 Stellantis' Jeep brand wants to become "global zero emission SUV leader" and plans include launching four all electric SUVs in North America and Europe by 2025 and electrifying the entire US model line, including Wagoneer 4xe variants.
Half of US sales and all Europe sales will be battery electric vehicles (BEV) by 2030.
For now, the brand has shown off two new, all-electric SUVs for sale worldwide and announced its first fully electric Jeep SUV for Europe, reviving the Avenger nameplate which once graced a C-segment Chrysler UK saloon sold from 1970 variously as a Hillman, Sunbeam, Chrysler and Talbot (and exported to North America as the Plymouth Cricket). Avenger was also for a time a Dodge nameplate primarily in North America although some four door 'sport sedans' were sold in Europe in the mid 2000s.
"Driven by the success of our electrified 4xe portfolio in North America and Europe, we are designing and developing the most capable and sustainable Jeep SUVs to date, on our path to becoming the leading zero-emission SUV brand in the world," stated Christian Meunier, Jeep brand CEO.
"Electrification is great for our brand, making it even more capable, exciting, sustainable and fun."
The Jeep brand showed the first images of two fully electric SUVs, the Jeep Recon and a redesigned Wagoneer, which will be sold in North America and some export markets while the Avenger will launch in Europe early next year following its October Paris motor show public debut.
Jeep claims its current Wrangler 4xe is the best selling plug in hybrid vehicle (PHEV) in the US and recently launched a Grand Cherokee 4xe variant.
The brand said it was "developing a comprehensive electrified product range specifically developed to enhance the brand's legendary capability and expanding its reach in North America".
Jim Morrison, head of Jeep brand North America, said: "By the end of 2025, our full lineup will be electrified, including four all-electric vehicles competing in the heart of the marketplace."
A new all electric Wagoneer will compete in the premium midsize SUV segment while, in the large SUV segment, Wagoneer models will offer hybrid powertrains which target an estimated 500 miles of combined range.
By 2030, there will be a full range of new BEVs, "establishing a lead in the SUV industry in terms of the number of models, segment participation and sales volume". Hence the 50% of brand sales in the US which will be all electric.
Jeep said the Recon was aimed at "those who love to explore extreme adventures in near silence with a rugged, fully electric vehicle package". It will come only as a BEV with offroad capability "trail-rated" with Selec-Terrain traction management system, e-locker axle technology, under-body protection, tow hooks and "aggressive" offroad tyres. It will also have a one touch power top, removable doors and glass plus the latest Uconnect infotainment system including detailed travel guides of the most notable US off road trails.
"The Recon has the capability to cross the mighty Rubicon Trail, one of the most challenging off-road trails in the US and reach the end of the trail with enough range to drive back to town and recharge," claimed Meunier.
Production starts in 2024 in North America with US order books open early in 2023. The Recon will also be exported to "major markets around the world, including Europe".
A new BEV SUV code named Wagoneer S will have a "unique, sleek, aerodynamic design" and 4×4 capability as standard, with all terrain management, advanced technology and "impressive performance credentials".
Range will be about 400 miles on a single charge, with 600hp on tap and a 0-60 mph acceleration time of around 3.5 seconds.
A signature LED-lit grille and aerodynamic efficiency are combined with the iconic upright Wagoneer side view.
The nameplate, last revived for 2021, dates back to 1963.
"We'll delight our customers with a premium, highly efficient SUV that is loaded with technology and high quality craftmanship, offering 4×4 capability, high performance, rapid acceleration and a target range of 400 miles on a single charge," said Meunier.
It makes a public debut in 2023 next year with production set for 2024 in North America.
It will also be sold in other major markets including Europe.
Avenger arrives in 2023
Jeep is already BEV only in Germany and France and the brand is now developing a line of "capable, fully electric vehicles designed and rightsized for Europe". There will be four BEVs in Europe by 2025 in the main volume segments. Jeep goes 100% electric in this region by 2030.
The Avenger compact SUV was shown during the Stellantis Dare Forward long-term strategic plan announcement earlier this year.
Also for sale in Japan and South Korea, it will be positioned below the Renegade and built in Tychy, Poland.
Targeted electric range is 400km (250 miles) and Jeep promises "impressive ground clearance, breakover and approach angles for its segment, while delivering a modern and technologically advanced interior, with plenty of space for people and cargo".
"The Avenger will offer Jeep brand capability that is rightsized for the European market," said Antonella Bruno, head of Jeep Europe. "This modern, fun and emotional SUV will appeal to a growing set of customers who are looking for a capable, compact, modern and all electric alternative to the current players."
The Avenger makes it public debut during Paris show press day on 17 October with order books opening same day. It reaches showrooms early in 2023.
"[We have] shared only a glimpse of our new portfolio of all-electric SUVs, providing tangible evidence of what is to come in the next 24 months and why we say that 4xe is the new 4×4," added Meunier. "This powerful combination of Jeep design, legendary 4×4 capability and electrification will reshape the SUV market."