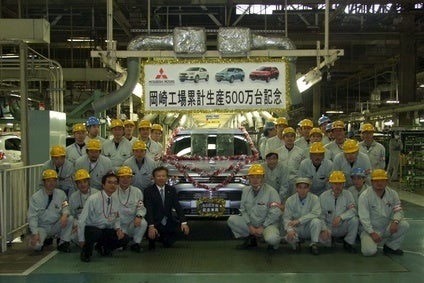 As news reports in Japan suggested at the end of last week, Mitsubishi Motors Corporation (MMC) has decided to pull the plug on production at its US plant in Normal Illinois.
MMC announced on Monday (27 July) that production subsidiary Mitsubishi Motors North America (MMNA) was "preparing to end production" of its sole model, the Outlander Sport, at the end of November 2015, consolidated output at the Okazaki plant in Japan.
"MMNA will be making efforts to identify a buyer with the help from United Auto Workers (UAW)," MMC said in its statement. The decision is subject to MMC board approval on 30 July.
Mitsubishi production in the US started in 1988 as Diamond Star Motors (DSM, later renamed MMNA) which was a joint venture with Chrysler Corporation.
DSM became a wholly owned subsidiary of MMC in 1991 after MMC bought all DSM shares owned by Chrysler Corporation.
In 2000 production volume reached over 222,000 units but bottomed out to as low as 18,500 in 2009 after the plant faced a very steep reduction in orders due to various factors including the end of OEM supply for Chrysler Corporation and the economic crisis.
In 2012, MMNA started production of the Outlander Sport [aka RVR and ASX] for North America, Russia, the Middle East and Latin America to secure production volume to gain production efficiency and improve utilisation.
With the recovery of North American market, production volume increased to 70,000 units in 2013, still low compared to other auto assembly plants in North America. But orders from Russia, which accounted for over 30% of the total production volume, have dropped "significantly" since the second half of 2014, due to the Russian economic crisis, which reduced volume at the MMNA plant.
Consequently, MMC decided to end production at Normal and consolidate output at Okazaki in Japan. The Outlander Sport will be exported from Japan to North America from the next model year.
"As the US market is expected grow even more in the future, it will continue to be a very important market and Mitsubishi Motors will continue to make efforts to grow its brand value and increase its sales volume in the US market," the automaker said.
Around 1,250 people are employed at the plant, according to Mitsubishi.