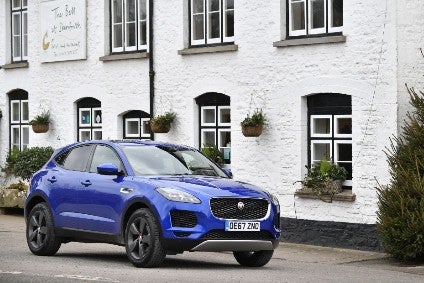 Tata-owned Jaguar Land Rover (JLR) has posted a set of quarterly financial results described as 'disappointing'. They included revenues down 11% year-on-year (at GBP5.6bn) in the second quarter of the fiscal year (quarter ended September 30) and a loss before tax of GBP90m (versus GBP382m profit before tax in FYQ2 last year).
JLR said the results primarily reflect lower than expected sales (retails 129.9k, down 13%) mainly due to more 'difficult market conditions experienced in China and continuing diesel weakness in Europe and the UK'. JLR has also announced a turnaround plan. Under 'Project Charge' it said it plans to cut costs and improve cash flows at JLR by GBP2.5bn over 18 months (more detail below).
Also in Q2, JLR booked wholesales of 130.7k units (including the China JV), down 14.7% on the same quarter of last year.
JLR noted that China has seen relatively slow GDP growth of 6.5% in Q2 (lowest since financial crisis) and the auto market has deteriorated with industry sales down 7.7% (12% in Sept) primarily due to general uncertainty created by tariff changes and increasing trade tensions.
The company also said that in the US – despite a favourable economic picture overall – rising interest rates and cyclicality are weighing on the auto market with continuing high incentives. It also said there remains a risk of increased tariffs on European vehicle imports.
JLR CEO Ralf Speth said: "We remain focused on delivering improved profitability and cashflow in the second half, while pressing ahead with our product offensive. In the latest reporting period, we introduced important new models including the Jaguar E-PACE and the revolutionary electric I-PACE. Production has begun at our new plant at Nitra, in Slovakia. We have also continued our development of autonomous, connected and electrified products and services, which will shape our strategy for the future."
Two new initiatives to boost financial performance
As part of its focus on improving profitability and cashflow, Jaguar Land Rover has launched two initiatives, called 'Charge' and 'Accelerate', to identify short-term cost and cashflow improvements as well as longer-term operating efficiencies. Total profit, cost, and cashflow improvements of GBP2.5bn over the next 18 months are targeted. As part of this, JLR says it has taken action to reduce planned spending by about GBP500m to GBP4bn per year this financial year and next.
Total investment spending in the second quarter was GBP1bn and cashflow after this investment was negative GBP624m for the three-month period. Jaguar Land Rover strengthened its financial resources in the period by issuing an EUR500m seven-year bond in September. The company ended the quarter with GBP2.6bn of cash and a GBP1.9bn undrawn credit facility. A US$1bn loan with a final maturity in 2025 was also completed in October.
JLR said its financial performance is expected to improve in the second half, and Jaguar Land Rover anticipates pre-tax profits to be about breakeven for the full year ending 31 March 2019 impacted by the weaker than planned first half.
NB: China JV retail volume in Q2 FY19 was 12,531 units (5,310 units of Discovery Sport, 1,587 units of Evoque, 2,668 units of Jaguar XFL, 2,607 units of Jaguar XEL and 359 units of Jaguar E-PACE). China JV retail volume in Q2 FY18 was 21,728 units (11,274 units of Discovery Sport, 4,856 units of Evoque, 5,598 units of Jaguar XFL) .