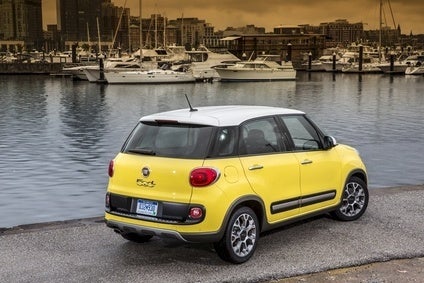 Fiat Group said first quarter 2014 revenues rose 12% to EUR22.1bn while trading profit, adjusted for currency movements was up 6% to EUR0.6bn. The company lost EUR319m in the first quarter versus a EUR31m profit in Q1 2013.
Net debt was EUR10bn after the acquisition of the minority stake in Chrysler.
Worldwide shipments were up 9% year on year to 1.1m units, driven by growth in NAFTA, APAC and EMEA which more than offset an 11% contraction in LATAM reflecting the phase-out of government incentives in Brazil.
Luxury brands nearly doubled revenues, with Maserati posting a four-fold increase over Q1 2013.
Trading profit was EUR622m, down 1% from EUR631m in Q1 2013, but up 6% on a currency adjusted basis. Luxury brands nearly doubled trading profit to EUR139m with Maserati reporting a profit of EUR59m (compared to break-even in Q1 2013).
EMEA reduced losses by EUR40m to EUR110m, mainly driven by higher volumes, improved product mix and industrial efficiencies.
APAC posted a 39% increase to EUR146m.
These gains were offset by lower operating performance in LATAM and, to a lesser extent, in NAFTA.
LATAM decreased by EUR142m to EUR44m, reflecting input cost inflation, lower volumes, poor business conditions in Venezuela and negative currency translation impacts.
For NAFTA, trading profit was down 4% to EUR380m but in line with the prior year excluding exchange rate impacts.
The quarter closed with a net loss of EUR319m (net profit of EUR31m for Q1 2013). Excluding unusual items, mainly related to the expense recognised in connection with the execution of the UAW Memorandum of Understanding entered into by Chrysler on January 21st (EUR315m net of tax) and the effect of the devaluation of the Venezuelan bolivar, there was a net profit of EUR71m, in line with prior year (EUR78m ex-unusuals).
Net industrial debt at increased EUR0.3bn excluding the effects of the acquisition of the remaining 41.5 % VEBA ownership interests in Chrysler (EUR2.7bn).
Fiat has outlined a EUR55bn plan to more than double profit and boost annual deliveries 61% to 7m vehicles by 2018 as CEO Sergio Marchionne seeks to forge an automaker that's big enough to challenge General Motors and Volkswagen, Bloomberg News noted.
"If you start your 2014-2018 plan with an extremely weak quarter, nobody will give you the credit that you will achieve your targets," Jens Schattner, a Frankfurt-based automotive analyst at Macquarie Group, told the news agency.
"If it was so easy just to launch new products to be successful in this industry, why wouldn't everybody do exactly the same?"