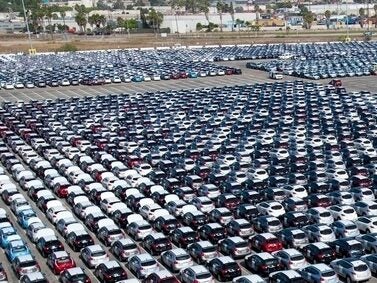 Total US new vehicle sales for April 2023, including retail and non-retail transactions, are projected to reach 1,316,500 units, a 9.8% increase from April 2022, according to a joint forecast from JD Power and LMC Automotive (a GlobalData company).

Thomas King, president of the data and analytics division at JD Power says the US industry is poised for another favourable month in April, with projected retail sales expected to increase 5.9%, accompanied by a 2% increase in average transaction prices.
According to the latest projections, it's expected that consumers will spend nearly $47.5 billion on new vehicles in April, reflecting 2.9% growth compared with the same month a year ago.
He also points to inventory rises. "It is anticipated that retail inventory levels for April will reach approximately 1.2 million units, which is consistent with March but marks a substantial 45% increase from April 2022," King says.
However, dealer margins are declining and manufacturer incentive spending is increasing. "Nevertheless, the demand for vehicles in the retail market remains strong due to pent-up demand from pandemic-related production shortages," adds King.
JD Power also says that supply constraints may have eased, but they are not over – and that supports profitability levels. King again: "Overall, the retail sales pace continues to be supply constrained. Therefore, pricing and profitability remain well above historical levels. This market condition is being sustained by manufacturers allocating more production volume to fleet sales. Rather than allocating all incremental production to retailers, manufacturers are opting to sell more vehicles to fleet customers, with fleet sales projected to increase 33% vs. April 2022."
New vehicle transaction prices continue to rise, with the average price reaching an April record of $46,044. This is a 2.0% increase from a year ago.
Although the improved supply of vehicles compared with a year ago has resulted in a decline in dealer profits, they remain well above pre-pandemic levels. The total retailer profit per unit, which includes grosses and finance and insurance income, is expected to reach $3,755. While this is 24.5% lower than a year ago, it is still more than double the amount of April 2019. The primary reason for the decline in profit is that fewer vehicles are being sold for prices higher than the manufacturer's suggested retail price (MSRP). This month, only 32% of new vehicles are projected to be sold above MSRP, which is down from a high of 48% in July 2022.
Manufacturer discounts have remained relatively consistent compared to March but have increased materially from a year ago, according to JD Power. The average incentive spend per vehicle has risen 58.9% from April 2022 and is currently on track to reach $1,599.
The details
The average new-vehicle retail transaction price in April is expected to reach $46,044, a 2.0% increase from April 2022. The previous high for any month—$47,362—was set in December 2022.
Average incentive spending per unit in April is expected to reach $1,559, up from $1,007 in April 2022. Spending as a percentage of the average MSRP is expected to increase to 3.3%, up 1.1 percentage points from April 2022.
Average incentive spending per unit on trucks/SUVs in April is expected to be $1,673, up $644 from a year ago, while the average spending on cars is expected to be $1,328, up $404 from a year ago.
Retail buyers are on pace to spend $47.5 billion on new vehicles, up $1.3 billion from April 2022.
Truck/SUVs are on pace to account for 78.0% of new-vehicle retail sales in April.
Fleet sales are expected to total 229,100 units in April, up 33.3% from April 2022 on a selling day adjusted basis. Fleet volume is expected to account for 17% of total light-vehicle sales, up from 14% a year ago.
Average interest rates for new-vehicle loans are expected to increase to 6.85%, 227 basis points higher than a year ago.
EVs enthusiasm dampened by lack of chargers
Elizabeth Krear, vice president, electric vehicle practice at JD Power says that while EV market share has improved from 2.5% in March 2020 to 7.3% in March 2023, it's important to note that the latter figure is down from 8.5% in February 2023.
"Despite an improvement in the Affordability factor score of the J.D. Power EV Index, the slippage in Adoption and in Infrastructure means that the parity of EVs to gas-powered vehicles is flat," she said. "Our March data shows that 21% of new-vehicle shoppers are 'very unlikely' to consider an EV for their next purchase—the highest percentage we've seen. Nearly half of those shoppers—49%—cite lack of charging stations as a key reason why."
Global sales outlook; market in April up as supply shortages ease around the world
Jeff Schuster, group head and executive vice president, automotive at GlobalData, parent of LMC Automotive said the first quarter was up 4.4% for the global light vehicle market.
"Global light vehicle sales ended the first quarter up 4.4% year over year to 20.6 million units, driven by recovery growth," said Schuster.
"Growth of battery electric vehicles accelerated 31.4% in the first quarter, while volume of gas-powered vehicles fell 3.2%. March's selling rate increased to 84 million units from 81 million units in February. March volume was up 10.6% year over year to 8.1 million units, driven by strong volume growth in Brazil (+37.9%), Western Europe (+22.6%) and Korea (+21.3%). North America and China grew slightly less than the global market, but both markets exceeded expectations going into the month.
"Global light vehicle sales in April are expected to increase 23.5% to 6.8 million units with the growth coming from a low base in April 2022. The selling rate is forecast to increase to 84.9 million units from 67.9 million last April. Growth in China is an outlier at a projected increase of 90% from being locked down in April 2022. Solid growth continues in Europe, up 21.5%, as markets start to rebound from supply disruption and the effect of the war in Ukraine.
"As the recovery continues and production levels rise to fuel stronger demand, we are holding the forecast consistent with last month at 86 million units, a 6.2% increase from 2022. Supply disruption is projected to improve further but will remain an issue throughout 2023. The overall effect on underlying demand is expected to be 4 million units of disruption, half what it was in 2022."