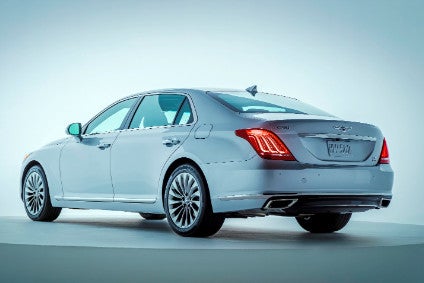 To the astonishment of some, Hyundai Motor Group's high priced Genesis G90 is outselling many similarly sized luxury cars worldwide. This includes the Porsche Panamera, Audi A8/S8, Jaguar XJ and Maserati Quattroporte.
HMG now says it is close to having delivered 20,000 units of the huge sedan since its release last December. The news is carried by the South Korean daily Herald Business. This number means the model is now a significant rival for the segment's traditional number two and three models, the BMW 7 Series and Lexus LS, respectively. At a combined more than 100,000 deliveries per annum, the Mercedes-Benz S-Class, Mercedes-AMG S 63 & S 65 and Mercedes-Maybach/Pullman sedans are far and away the best sellers in the full sized luxury sedan category.
The newspaper states that 17,069 units of the G90, which is badged EQ900 in the home market, have been sold worldwide as at 30 June. The car's main markets are South Korea, the US, Canada, China and certain countries in the Middle East.
Hyundai says it now sees the 20,000 milestone being reached by end of July. Previously, the target date, which has recently been lifted to 30,000 cars for CY2016, had been 31 December.
Depending on the market, the car is available with up to three petrol engines – a V6, a turbo V6 and a V8 – and an eight-speed torque converter automatic transmission. An EQ900 diesel will be launched in South Korea in 2017, Hyundai told the local media in June 2016. It will also begin selling a diesel version of the smaller G80, formerly known as the Genesis Sedan.
A recent just-auto.com report, which summarises the anticipated full range of future Genesis models, also notes that HMG is planning to add EVs to the line-up.