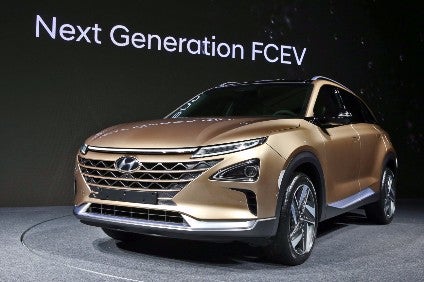 Hyundai Motor announced at the IAA Mobility 2021 in Munich, Germany, this week it had set a target of becoming carbon neutral by 2045, a strategy which it said would be based on three main platforms: clean mobility, next generation platforms and green energy.
The automaker also announced its commitment to increase the share of zero-emission vehicles to 30% of sales by 2030 and to 80% by 2040. It expects its zero-emission vehicles (ZEVs) will mainly comprise battery electric vehicles (BEVs) and Fuel Cell Electric Vehicles (FCEVs).
The company said it plans to only offer ZEVs in Europe from 2035 and will phase out all models that use fossil fuels in major markets by 2040.
On display at the show were the company's latest environmental and technology solutions, including its latest EV concepts and new models including the IONIQ 5, Nexo, Kona EV and the Elec City FCEV bus, which is currently undergoing trials in Switzerland. The company said its new FCEV launch programme includes a new Nexo model and an MPV in 2023, to be followed by a large SUV after 2025.
Hyundai also displayed its all-electric robotaxi, developed in collaboration with technology startup Motional. The company said it "expects to be transporting public passengers in the Ioniq 5-based robotaxi when it launches its fully driverless service in 2023″.
Hyundai Motor also said it aims to launch an all-electric Urban Air Mobility (UAM) model optimised for intra-city operation by 2028, to be followed by a regional air mobility service connecting neighbouring cities in the 2030s.
The automaker is currently testing its latest vehicle to grid technology which allows energy to be pushed back into the power grid from the battery of an EV which it says enables efficient energy demand management especially during peak hours.
It is also looking to recover and transform end of life EV batteries into an energy storage systems business. Hyundai is currently working with various local energy partners to run pilot projects to commercially reuse second life EV batteries.
Hyundai Motor president and CEO Jaehoon (Jay) Chang said in a statement his company "is determined to do the right thing by the world. Climate change is an undeniable challenge that needs everyone's utmost and urgent attention. Hyundai Motor commits to become carbon neutral in its global products and operations by 2045 and we will make investments in cleaner transportation and greener energy solutions to achieve a better and more sustainable future for all".