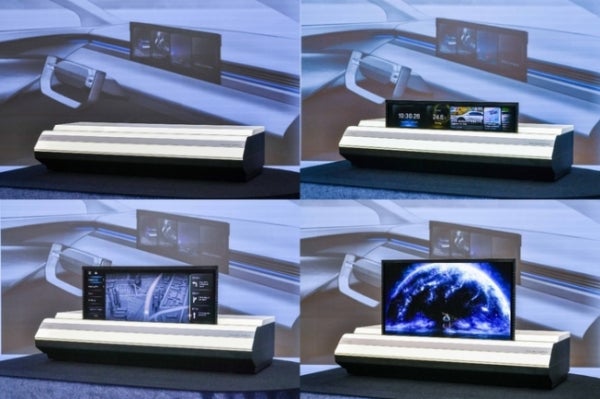 Hyundai Mobis, the automotive parts unit of Hyundai Motor Group, claimed to have developed the world's first automobile rollable display.
According to Business Korea, the display rolls up and down when entering and exiting the vehicle. When power is turned off, the screen disappears completely, and when driving, only a third of the screen can be displayed to show driving information. When selecting navigation mode, two thirds of the display is revealed. When parking or charging an electric vehicle with the new display, it is unrolled fully to a 16:9 image ratio to show videos.
The report said the rollable display has resolution of QHD (2560×1440) or higher. It can also be used as an ultra large, 30 inch (diagonal) screen.
The rollable display is smaller and needs less installation space, so it can be used to create various changes in the interior design of the vehicle, Business Korea said, citing the supplier.
South Korea is a key source of high-tech displays for the consumer electronics and auto sectors. LG Electronics makes 4K UHD LED and O[rganic]LED screens for its own vast range of televisions and also supplies rival makers.
Key LG competitor Samsung Electronics makes its own displays using its proprietary Q[uantum]LED technology and has also recently shown production ready, roll up TVs at consumer electronics shows such as CES. It already sells mobile phones and tablets with folding screen technology.