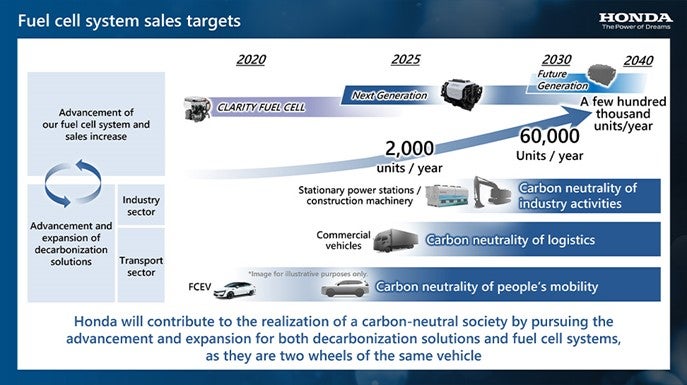 Honda Motor announced plans to begin sales of so called next generation hydrogen fuel cell systems (HFC) in its passenger vehicles and other products by 2024, as it looks to reduce its global carbon footprint.
The automaker developed its current HFC system, which produces electricity through a chemical reaction between oxygen and hydrogen, with General Motors (GM).
The company said it was looking to improve on this and has "begun fundamental research on future fuel cell technology with targets to halve the cost and double the durability compared with the fuel cell system co-developed with GM", bringing them in line with conventional diesel engines.
HFC technology is seen widely as a key way of cutting emissions from passenger and commercial vehicles and other machinery although it will require significant investment to establish hydrogen 'ecosystems', particularly refuelling infrastructure.
Honda expected to sell around 2,000 new HFC systems per year from the mid 2020s, rising to 60,000 annually by the end of the decade and a few hundred thousand "future" systems annually by the second half of the 2030s.
The company said it would apply the technology to its own vehicles, starting in Japan and the US with sales of a CRV based model in 2024, and also apply it to its stationary power generators and make it available to third party manufacturers of commercial vehicles and equipment such as construction machinery.
In Japan it wants to work with companies such as Marubeni and Iwatani to establish a hydrogen ecosystem for commercial vehicles. It also plans to begin "demonstration testing" a prototype fuel cell heavy duty truck developed with Isuzu on Japan's public roads by the first quarter of 2024.
Honda said it would also take an "active role in establishing hydrogen ecosystems which centre around stationary power stations and will also proactively participate in projects organised by national and local governments that utilise large volume of imported hydrogen at ports and other locations".
Honda's Arata Ichinose said global medium and heavy truck sales currently amount for 3m units annually. He expected between 20% and 30% of total output would be electrified by 2030 by using battery and fuel cell technology.