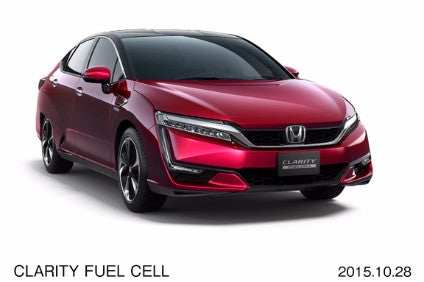 Honda's US unit said it would start leasing its new five-passenger, hydrogen-powered Clarity Fuel Cell sedan to selected customers in California before the end of 2016 with the car priced around US$60,000 with a targeted monthly lease under $500.
The announcement was made at the Washington auto show. Honda, which launched the Clarity at the Tokyo show last year and will start leases to business and fleet operators in Japan in March, said it expects limited volumes in the early stages of production.
Updates
Technological innovations to the Clarity Fuel Cell have created a fuel cell stack that is 33% more compact than its predecessor with a 60% increase in power density compared to the outgoing FCX Clarity. The more compact fuel cell and integrated powertrain, comparable in size to a V6 engine, now fits entirely under the bonnet of the car, allowing for a more spacious cabin with seating for five passengers. The new Clarity will have a driving range estimated to exceed 300 miles, with an anticipated refuelling time of approximately three to five minutes.
New features include the Honda Sensing suite of safety and driver assistive technologies, Apple CarPlay and Android Auto, LED exterior lighting and 18-inch aluminium alloy wheels. The Clarity will be available in black, white and signature red exterior paint schemes. Deliveries will begin through certified fuel cell vehicle dealers in Los Angeles and Orange counties as well as the San Francisco Bay Area and Sacramento. The company will start by leasing vehicles and expects to move to retail sales with increased volumes and market coverage coincident with increasing vehicle supplies and the growing hydrogen refuelling station network.
Hydrogen history
Honda claims to have led the industry for nearly 20 years in the development and deployment of fuel cell vehicle technology through extensive real-world testing and customer deployments, including the first government fleet customers and first-ever retail consumer leasing programme. Since the introduction of its first-generation fuel cell vehicle, the FCX, in 2002, Honda has made significant technological advancements in fuel cell vehicle operation in both hot and sub-freezing weather while meeting customer expectations and safety regulations.
Honda has deployed fuel cell vehicles in the US, Germany and Japan, including the FCX Clarity, which was named the 2009 World Green Car. Honda has delivered these vehicles to individual retail consumers in the US and collected valuable feedback concerning real-world use of both fuel cell vehicles and public hydrogen refuelling stations.
Honda's second-generation fuel cell vehicle, the FCX Clarity, launched in July 2008 and was quickly heralded as a technological breakthrough in the areas of design, packaging and efficiency. As the world's first dedicated platform fuel cell vehicle, the FCX Clarity was powered by the V-flow fuel cell stack positioned in the centre tunnel of the vehicle, with the electric motor located down low in the front of the vehicle, providing performance on par with a gasoline powered sedan, including 240 miles of driving range.
Refuelling
In the effort to speed the advancement of a refuelling station network outside of California, in May 2013 American Honda joined the public-private partnership H2USA, which brings together automakers, government agencies, hydrogen suppliers, and the hydrogen and fuel cell industries to coordinate research and identify cost-effective solutions to deploy stations that can deliver affordable, clean hydrogen fuel in the United States. Additionally, in an effort to support the wider introduction of fuel cell vehicles, Honda in 2014 committed $13.8m in financial support to FirstElement Fuel to accelerate the building of additional hydrogen refueling stations throughout the state of California.
Collaboration
In June 2013, Honda entered into a long-term collaborative agreement with General Motors to co-develop the next-generation of fuel cell systems and hydrogen storage technologies, aiming for the 2020 timeframe. The collaboration expects to succeed by sharing technological expertise, economies of scale and other benefits.
PHEV
In addition, the platform underpinning the Clarity Fuel Cell will serve as the base for a next-generation Honda plug-in hybrid launching in the US by 2018. This will be a new, 50-state volume vehicle in the Honda lineup-up. Featuring a second iteration of the i-MMD plug-in system that offers significant improvements in battery capacity and power, the next-generation Honda plug-in hybrid will more than triple the 13-mile all-electric range of the previous Accord Plug-In Hybrid Sedan. This much greater all electric range will enable a zero emissions commute for the vast majority of American drivers with EV operation at highway speeds.
Honda will also launch a 2017 Accord Hybrid this spring.
"The new Clarity Fuel Cell and Accord Hybrid arriving this year, along with the new plug-in hybrid coming by 2018, are critical steps toward a new generation of advanced environmental vehicles and a true volume pillar for Honda and our product portfolio in the US," said John Mendel, executive vice president, automobile division, American Honda Motor. "The Clarity Fuel Cell is a potential game changer because it offers an uncompromising, zero emissions customer experience, with performance, utility, range and refuelling time on par with today's gasoline-powered cars."