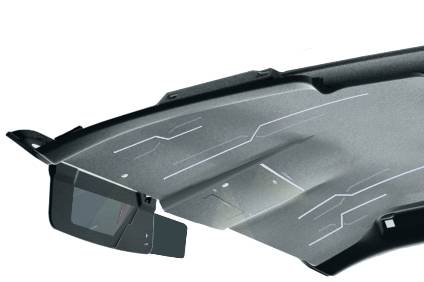 Grupo Antolin said it had "reimagined" the sun visor and developed a retractable version.
The retractable visors are hidden behind the headliner substrate until needed and can be deploy manually or electrically.
"The seamless integration also provides fluent lines and a bigger sense of space for the end users," the supplier claimed.
Hiding the sun visors provides free space in the overhead for functional customisation giving designers possibilities. The sun visor can be fabric covered or uncovered.
The possibility of materials and textures is endless: plain plastic, pattern engraved plastic, natural or sustainable materials, stitching or even back lighted materials.
Antolin claims the end user will benefit from more ergonomic movements. The rest position in the headliner disappears so the user does not need to move the head to position the sun visor. Visual angles are also improved.
The sun visor is a fully modular product which can be mounted in the substrate and delivered as a modular headliner or supplied as a separate component.
Grupo Antolin claims to lead the modular headliners market.