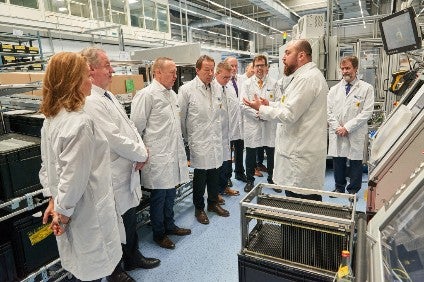 Interiors supplier Grupo Antolin said second quarter (April-June) were up 7.4% year on year to EUR1,117.9 million.
The supplier said the automotive industry continued to record low production levels, due to semiconductor shortages and the effects of the Ukraine war on supply chain and sales in Europe, as well as new mobility restrictions in China to cope with the pandemic.
Global vehicle production grew 1% in the second quarter.
"Despite this challenging context, the company reacted in an agile and efficient manner which allowed it to outperform the market by more than six percentage points," it said in a statement.
Thanks to growth in recent months, sales reached EUR2,099.2 million in the first half of the year (January-June), compared to €2,116.7 million in H1 2021. Sales evolved in line with global vehicle production, which declined 1% in the first half of 2022.
Antolin said increased revenue in recent months and efficiency measures led to improved operating margins.
Q2 EBITDA increased 15.9% to EUR86.4 million though first half EBITDA fell 15% as a result of a weaker Q1, to EUR145.9 million.
The company said it remained focused on increasing profitability while developing its strategy to consolidate itself as a global and innovative provider of automotive interior technology solutions and grow its business in high growth potential markets such as China or India.
Sales by territory
In the first half, Antolin's sales by regions outperformed the respective markets: North American revenue grew 10% to EUR722.7 million (compared with market growth of 5%) while Asia sales rose 13%, to EUR307.4 million, compared with a 1% market rise. A 47% increase in business in India and a 6% increase in China were notable.
Revenue in Europe fell 12% in line with the market, to EUR986.1 million, and in Africa grew 16%, to EUR44.8 million versus a 10% market rise. South America sales were EUR38 million, up 48% year on year and compared with a 1% contraction in the market.
"During the second half, the automotive industry situation will continue to be marked by significant uncertainties, so Grupo Antolin will remain focused on improving its efficiency, controlling its costs and being flexible to adapt to its customers' production," a statement said.