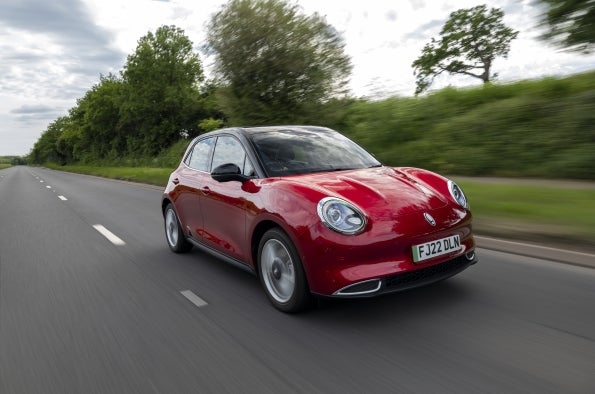 Great Wall Motors' (GWM) all-electric ORA brand is to launch in the UK later this year with the 'Funky Cat' first edition. Pricing will start at GBP30,495.
Funky Cat First Edition is expected to be on sale in Autumn, with customer deliveries to follow soon after. ORA UK will also launch a 'Queue Jump' scheme in June.
Already, ORA UK has taken over 6,000 registrations of interest for the Funky Cat, with sales planned to commence in Autumn this year.
In the lead up to launch later this year, ORA UK is working to establish a nationwide network of retailers that will scale up as the brand grows. While there will be a big focus on physical retailers, ORA products will also be available to purchase through the 'ORA Online' sales platform, which is planned to launch in August.
The company says this hybrid approach will provide the ideal blend of physical and digital space to satisfy a broad range of customer requirements.
Toby Marshall, Sales and Marketing Director, ORA UK, said: "We are really excited to launch the ORA Funky Cat into the UK market. This exciting new EV will set the precedent for the brand, offering customers a premium, technology led experience with a completely unique look and feel."
Mr. Yao Fei, Vice President, Great Wall Motor said: "The UK is a key launch market for the GWM ORA brand and I look forward to launching our first product, the ORA Funky Cat, later this year. As a new disruptive EV brand, we will offer customers high quality products, with a unique design that will bring a fresh new look to European streets."
The company says the Funky Cat First Edition will be available with a 48kWh battery offering a WLTP range of 193 miles.
The vehicle will also be backed by 5-year vehicle, unlimited mileage warranty with cover on the battery for 8-years or 100,000 miles.
The vehicle will come equipped with features including: Adaptive Cruise Control, 360 Degree Cameras, Reversing Camera, LED Headlights and 18" Alloy Wheels. Customers will also benefit from integrated Apple CarPlay and Android Auto, as well as wireless phone charging and electric front seats. In addition, the vehicle features comprehensive charging capability with Type 2, 6.6kW single-phase AC and 11kW three- phase AC charging as standard. Funky Cat First Edition will also feature a maximum of 80kW DC rapid charging and come equipped with a CCS socket as standard.
Based on 15% – 80% charge status, 6.6kW home charging will take users around 5 – 6 hours. This time is cut drastically when moving up to 11kW on-street charging, which takes around 3 – 4 hours. Additionally, 80kW rapid charging will take around 40 minutes.
GWM ORA's 'Queue Jump' scheme is planned to launch in June, which will give customers the opportunity to place a GBP100 refundable deposit, granting priority access to stock when it arrives.