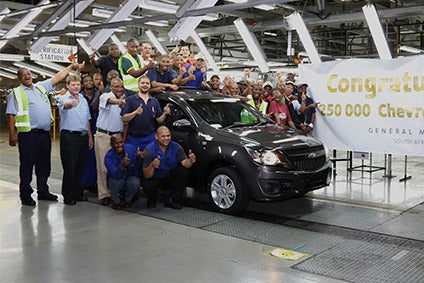 South Africa's National Union of Metalworkers of South Africa (NUMSA) has said up to 600 workers at General Motors SA are set to lose their jobs by July, out of a total of 1,500.
GM last week announced cuts to its international operations which it said would save US$100m a year. Among the measures announced were the withdrawal from selling Chevrolet vehicles in India (manufacturing there moves to export only) and South Africa (where Isuzu Motors would purchase the GM South Africa light commercial vehicle manufacturing operations). Although maintaining a presence in India, the US based group is withdrawing completely from South Africa, ceasing production and sales of Chevrolet models in the country by the end of this year.
According to local website businesstech.co.za, citing a Reuters report, NUMSA said in a statement GM had already issued retrenchment notices. The union had invited all members working at GM in Port Elizabeth to attend a general meeting on Tuesday (23 May).
In a statement issued last week, NUMSA claimed GM had neither consulted with the South African workers before the announcement of its planned withdrawal nor provided any details of the "fate" of affected employees. The union added it was exploring its legal options and noted this was the second time the multinational had withdrawn from the country.