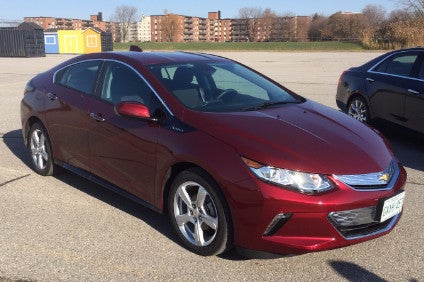 General Motors plans to launch at least 10 electric (EV) and plug-in hybrid vehicle models in China by 2020, company officials told reporters at the Shanghai motor show.
GM China CEO Matt Tsien said his company plans to start production of EVs in China within two years as it responds to the Chinese government's policy of encouraging domestic sales through tax incentives and also possible minimum production quotas in the coming years.
The automaker's China unit unveiled the hybrid version of the Chevrolet Volt at the show, it is expected to go on sale later this year under the Buick badge.
The Chinese government is under increasing pressure to reduce air pollution in the country's major cities, which have some of the worst air quality in the world.
The government also is pushing the country's auto industry to take a leading role in the emerging global EV market.
By 2020, annual sales of NEVs in China from Cadillac, Buick and Chevrolet are expected to reach 150,000 units. By 2025, annual NEV sales from these three brands are expected to reach 500,000 units.
Ford and Volkswagen are among the automakers also to have announced at the Shanghai Motor Show stepped-up plans for EV and hybrid vehicle production in China.