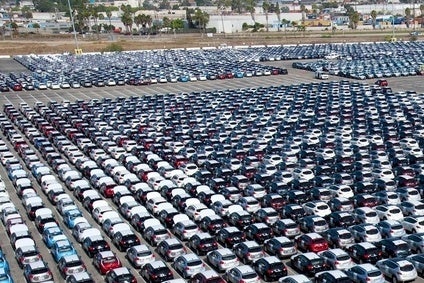 The global light vehicle market was up 11.6% year-on-year (YoY) to 8.2 million units in March, according to GlobalData (LMC Automotive) estimates. The underlying annualised sales rate was also up versus February's running rate, boosted by strong growth in China ahead of tax changes.
According to GlobalData, the Global Light Vehicle (LV) selling rate rose to 84 million units/year in March, from February's figure of 81 million units/year. Many countries have reported an easing of supply shortages, as seen by the increased raw monthly registration figure of 8.2 million units – representing growth of almost 12% YoY.
The month-on-month (MoM) improvement in the SAAR performance is largely attributed to the rebounding of the China market as customers take advantage of tax incentives before April. Similarly, both the North American market and the Western Europe markets saw YoY improvements when compared against a very weak 2022. Eastern Europe showed the first positive YoY growth in March since the beginning of the Ukraine conflict in February 2022.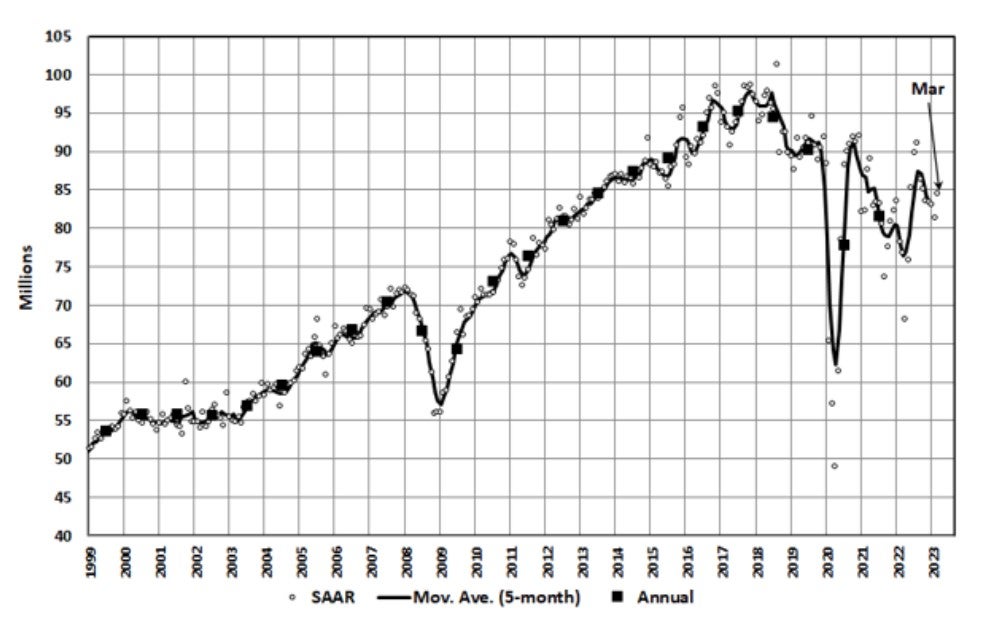 A summary of market developments in the world's regions follows.
North America
The US Light Vehicle market continued to grow in March, with sales up by 8.4% YoY, to 1.4 million units. The selling rate slowed to 14.8 million units/year in March, down from 15.0 million units/year in February, but that was still an upbeat result by recent standards. As inventory levels improved and pressure from the semiconductor shortage eased, there was a MoM decline in average transaction price to US$45,837.
In March, Canadian Light Vehicle raw sales were 150k units, up by 5.7% YoY, as well as up by over 40k units compared to February, as the Spring selling season began. Despite this healthy growth, the selling rate slowed from 1.7 million units/year in February, to 1.6 million units/year in March. Light Vehicle sales in Mexico continued their strong run in 2023 with another robust result of 120k units in March, this up by 25.1% YoY. Preliminary estimates for the selling rate in 2023 showed a decline to 1.2 million units/year, this lower than both January and February.
Europe
The West European selling rate fell from 13.5 million units/year in February to 12.3 million units/year in March, though the general picture remains somewhat more positive than last year. In preliminary raw monthly terms, March registered 1.44 million units, up 22.3% YoY, helped by an easing of supply constraints strengthening the pace of deliveries to customers.
The East European selling rate fell considerably from February to March, the latest month at 3.4 million units/year. The Ukraine war still debilitates the LV market activity in the region, with preliminary raw registrations at 306k units, down 19.4% YoY. Russia's YTD raw registrations fell over 43% YoY.
China
After a sluggish January and February, the Chinese market rebounded in March. According to preliminary data, the March selling rate reached a 5-month high of 26.8 million units/year, up 28% from an abnormally weak February. That, however, brought the YTD average selling rate to only 23.8 million units/year. In YoY terms, sales increased by 12% in March, but declined by 5.6% in Q1. Light Commercial Vehicle sales accelerated at a much faster rate than those of Passenger Vehicles, as economic activity normalized after the pandemic and the Chinese New Year.
Despite many consumers taking a wait-and-see approach amidst the price war, they apparently decided to buy vehicles in March before heavy discounts and the provincial governments' temporary tax incentives expire (as some of them will end in April). NEVs remained the key driver of the market, with their sales expanding by about 35% YoY. Yet, it is reported that dealers are still left with a large stock of vehicles that need to be sold before the implementation of the new State VI-B emission standard on 1 July.
Other Asia
In Japan, the selling rate reached 4.3 million units/year in March and averaged a solid 4.6 million units/year in Q1, even though high inflation and falling real wages eroded consumers' purchasing power. As the component shortages eased markedly, OEMs ramped up production and thus supply. Yet, the delivery periods for many models do not appear to be shortening, ranging from 3-6 months to 3-4 years. That indicates that the market still has a significant number of pending orders.
In Korea, the March selling rate was 1.86 million units/year, bringing the Q1 average to 1.8 million units/year. Improved supplies of semiconductors enabled production to fully return to normal operation, and OEMs increased deliveries to dealerships to meet many backlogged orders. New model launches by Hyundai and Kia boosted sales as well. Sales of EVs were brisk, supported by the recent government BEV subsidies.
South America
Brazilian LV sales are estimated to have increased by 38.1% YoY in March, to 190k units. The selling rate saw another increase in March, to 2.1 million units/year, up from 1.9 million units/year in February. Inventory levels are continuing to increase as stocks reached 205k units in March, as well as days' supply increasing from 29 days in February to 31 days in March. Both sales and production increased last month, but there were some issues on the production side with facility stoppages, as well as shift reductions.
In Argentina, Light Vehicle sales are estimated to have increased to 37.3k units, up by 16.1% YoY. The selling rate increased in March to 420k units/year, up from 398k units/year in February; this is the first month this year in which estimates have exceeded the 400k unit mark. Although still below historical levels, for now the market appears resilient in the face of economic headwinds and import restrictions.