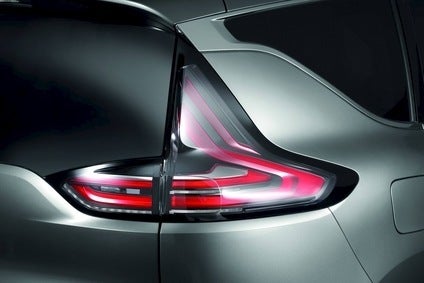 The new Renault Espace recently introduced in Europe has LED tail lamps with a two-part design developed by Hella.
The fifth generation French crossover was first shown as Renault's "Initiale Paris" concept car at the 2013 Frankfurt Auto Show. Hella says the new model features Hella tail lamps that are split into two sections to generate a unique appearance, "especially when turn signals are activated".
An auxiliary lens that combines clear and brushed coatings is located in front of each LED light guide to create what Renault refers to as an "ice cube" design similar to the appearance of light passing through an ice cube.
The Espace's two-part LED rear lamps also feature chrome inlays, typical for vehicles produced by the French automaker. With the exception of the vehicle's back-up lights, all of the rear lighting functions use LEDs. Parallel to the turn indicators and stop lights, the inlay extends across both parts of the lamp. Finished with a jet-black lacquer, the rear lamps blend with the vehicle's overall exterior design.
The light-guide technology-based tail lights also highlight the overall appearance of the crossover by passing through the entire lamp in a curved line, Hella says.