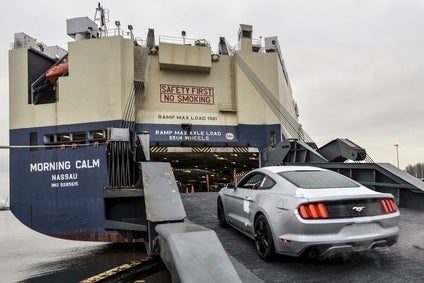 The Ford Mustang has appeared in some 3,000 films and TV shows in its 51 year history but, in what was arguably its best-remembered and most defining role, in the 1968 Steve McQueen movie 'Bullitt', the car on screen was not actually a Mustang.
It looked like a Mustang and sounded like a Mustang, but was apparently a rebodied saloon. The real thing was considered too valuable to be put through the car chases and stunts required of it.
This and other little-known facts about an American muscle car which genuinely deserves that much over-used term 'iconic' were revealed at the recent European launch of the latest Mustang which goes on sale across the continent in June and (with right hand drive) in the UK by November.
"A lot of people in Ford of Europe have been waiting for this day for many years," said Ford of Britain chairman and managing director Mark Ovenden. "We have never officially sold it [the Mustang] until now, but it has always been with us. In the UK alone there are around 4,000 on the roads and two owners' clubs, and in an online poll of 75,000 people it was voted Europe's most desirable classic by 37% of the people who responded."
Already there are 3,800 orders for the new Mustang in Europe, including 1,200 in the UK, which looks like being the major EU market. Ovenden said the 2015 UK allocation was already sold out – largely as a result of his insistence on "supply being one less than demand" – which means that anyone joining the queue now won't see delivery until April 2016.
The new Mustang will be available as a coupe or a convertible powered by five litre, 418bhp V8 or 2.3 litre 317bhp I4 turbo engines, both offering the choice of six speed Getrag manual or Ford automatic transmissions. Orders across Europe so far are heavily in favour of the V8 coupe, with the choice of transmission evenly split.
"This was always intended to be a global vehicle as part of the One Ford strategy so Europe was a part of the plan from the beginning," said Karl Wittman, of the US-based chassis and dynamics team. "It will be sold in 140 countries in 1,000 iterations.
"A lot of expertise from all around the world has gone into the body structure and the world-class suspension which is a third or fourth generation independent system at the rear. We took feedback from every region of the world and, if we decided to make a change on anything, we made it globally."
The I4 is a new Ecoboost unit based on the two-litre turbo in the Lincoln MKC SUV but with a longer piston stroke, longitudinal rather than transverse installation and a new cylinder head. The V8 is the 'Boss' engine which was produced at the rate of only 1,000 a year in the 2013-14 Mustang Performance Pack model.
"We have redone it for volume production and it now becomes our general V8 for the Mustang," said Wittmann.