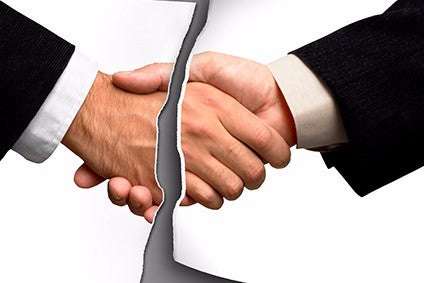 Germany's Association of Supply Chain Management, Procurement and Logistics (BME) says the bitter dispute between Volkswagen and two of its suppliers this week has the potential for "substantial, subsequent effects."
The six-day disagreement – which had resulted in major disruption at six major Volkswagen plants in Germany – was eventually ended yesterday (23 August) – but the BME is raising concerns surrounding the impact on Germany's car industry following the automaker's highly-publicised travails with its emissions testing.
"The dispute of the Volkswagen with two suppliers could become, after the exhaust gas affair, another big load test for the automobile industry in Germany," said BME CEO, Christoph Feldmann, in comments sent to just-auto from its headquarters in Frankfurt.
"The subsequent effects for the whole value added chain are substantial already today. The example of VW appears [shows] once more how important a far-sighted and above all well-structured risk management is in purchase, supply chain and logistics."
The issue involving component manufacturers, ES Automoiblguss and CarTrim, subsidiaries of Prevent Group, was serious enough to affect up to 28,000 workers at six Volkswagen sites across Germany in Emden, Zwickau, Kassel, Salzgitter and Braunschweig.
Should the automaker have been forced to implement short-time working, it is likely the German government, either regional or Federal would have been forced to step in with a form of salary compensation.
The issue rapidly ramped up the political food chain, with senior politicians at a national level expressing alarm at the swift escalation of the dispute involving such huge numbers of staff and dropping not so subtle hints they demanded a quick resolution.
"We hope – and we expect – from all companies and involved parties they are talking to solve this problem as soon as possible because there are many jobs dependent on a good solution," a German Economics Ministry spokesman told just-auto from Berlin before news of the dispute's resolution broke.
"In general, we are not getting involved with questions that have to be dealt with by the companies themselves."
The German supply chain organisation chief reiterated what has become a common theme in how major companies deal with breaks in the just-in-time philosophy of manufacturing, namely the vital nature of spreading the load rather than relying on individual suppliers.
"It depends on him [OEM purchaser] decisively whether the existing supplier's network is attached fine-meshed enough to be able to react immediately with a sudden failure," added Feldmann.
"Otherwise, like in case of VW, the danger [is] on making itself too dependent from the economic efficiency of single supplier.
"Though all companies would have to make purchases cost-optimised, cooperation should still occur confidently and valued along the whole process chain."
The 60-year old BME has 9,200 members, both individual and corporate, with purchasing volume totalling EUR1.25tn (US$1.4tn), representing, the organisation claims, around half German GDP.