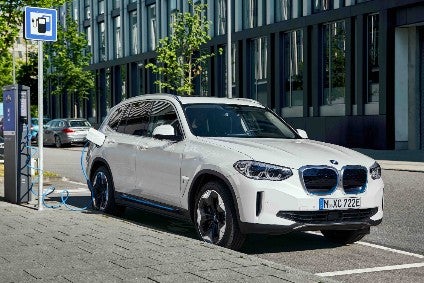 BMW's first electric SUV has been officially announced. The iX3 will be manufactured exclusively at the Brilliance-BMW JV's Dadong plant in the Chinese city of Shenyang. It has a maximum range of 460 km (286 miles) WLTP.
This model was announced back in September 2016 by BMW Group's then CEO Harald Krueger as a future electric version of the X3. To become available in China from late 2020 and in Europe from early 2021, the RWD-only iX3 is aimed at the Mercedes-Benz EQC, Jaguar I-Pace, Polestar 2 and Audi e-tron.
A preview, the Concept iX3, premiered at the Beijing motor show in April 2018. According to BMW, this prototype's power was "in excess of 200 kW (270 hp)". The concept was powered by a "model-specific high-voltage battery with a net capacity of over 70 kWh", allowing a maximum range of "more than 400 kilometres (249 miles) in the WLTP cycle."
What the company terms "fifth-generation BMW eDrive technology" is distinguished by being compact. The electric motor, transmission and power electronics are grouped into a single component, making it easier to integrate them into different vehicle architectures. Plus, their modular construction enables them to be adapted to the performance levels required and the available space. Another notable element is that the motor does not need any rare earths, which means the BMW Group is not dependent on their availability.
The iX3's rear-mounted motor produces 210 kW and 400 Nm (295 lb ft), while an 80 kWh (of which 74 kWh is useable) 400 V battery gives up to 460 km (286 miles) of range according to the WLTP test cycle. The 518 kg battery pack's 188 prismatic CATL NMC 811 high-density cells are 80% nickel, 10% cobalt and 10% manganese.
So as to save power, top speed is limited to 180 km/h and 0-100 km/h takes 6.8 seconds.
BMW USA told its dealers in January that it had put plans to offer the iX3 on hold. Prior to this announcement, the electric SUV had been expected to arrive in 2021. China and the European region will therefore be the new model's main markets.