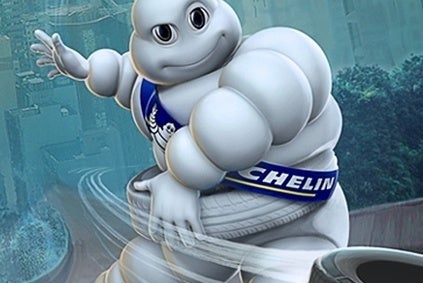 Michelin says current European legislation mandating basic tyre labelling information is helping to discourage sales of low quality brands, but believes more could be done in terms of regulation.
The issue of cheap dumping has proved highly contentious across the globe, but the French tyre manufacturer hails the provision of EU-wide rules as at least a step in the right direction.
"Today we measure three steps: wet braking performance, rolling resistance and noise,"Michelin president, passenger car and light truck tyres worldwide, Thierry Chiche, told just-auto. "In addition to informing consumers, it is also preventing sales of very poor tyres.
"Then you don't have a chance to buy a dangerous or very poor tyre. If you could [also] inform them of wear, we believe it would very good. But it has to be done fairly, that is the limitation. I know some competitors are pushing tests because the problem of wear is the cost of the test.
"Some competitors are pushing tests which are a bit more economical – [that] might sound a good idea but they do not reflect reality. What we want is drivers get the right tyre with the right information."
Never has the issue of verifiable and consistent testing been more to the fore of public consciousness as the fallout following the scandal of Volkswagen's emissions defeat device continues to reverberate around the world.
Volkswagen has had to endure a very public examination of how its testing procedures for certain diesel vehicles appear to be out of kilter with real world situations.
"Every time we do something, we do it with a safe product respecting regulation," added Chiche. "Regulation has one objective – the good of drivers and society.
"Government is there to protect people and develop regulations which bring improvement to society. Michelin has exactly the same objective."
The Michelin global tyre chief also conceded it had some markets with "ups and downs," but insisted it was working well for example in the currently problematic market of Russia, which is witnessing plunging sales as consumers flee from car showrooms.
"Michelin is in Russia for more than 100 years," said Chiche. "We were there in 1907."