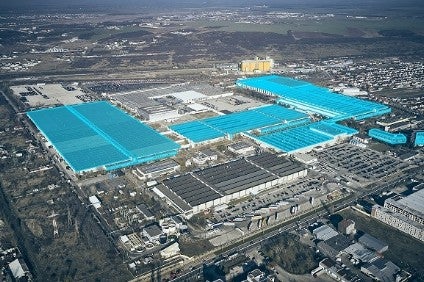 Ford Europe confirmed on Tuesday a development president Stuart Rowley hinted at a couple of months ago – the Romanian plant in Craiova will build an EV.
Production won't start until 2024 though output of ICE versions will commence the previous year.
A US$300 spend will see Craiova, once a Daewoo factory, build a new light commercial vehicle line including, eventually, an all-electric variant which will be the first Ford BEV volume vehicle to be built in Romania. The plant currently produces the 48v mild hybrid Puma, EcoSport and one litre petrol engines.
Ford said its new LCV will have some of its "most advanced" conventional petrol and diesel engines with the latter sourced from Dagenham and transmissions from Halewood, both in England.
"Craiova has a strong record of delivering world-class competitiveness and flexibility. Our plan to build this new light commercial vehicle in Romania reflects our continuing positive partnership with local suppliers and the community," said Rowley.
"Craiova will be our third factory in Europe to build an all-electric vehicle. It follows recent investments this year in the Cologne Electrified Vehicle Centre in Germany and Ford Otosan's Kocaeli plant in Turkey."
In February, Ford said its entire commercial vehicle range would be zero-emissions capable, all-electric or plug-in hybrid, by 2024 with two-thirds of CV sales expected to be BEV or PHEV by 2030.