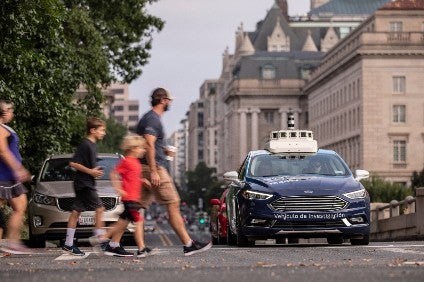 Ford China has begun final testing of vehicle to infrastructure communications equipment in Changsha, in Hunan province, ahead of the launch of its first 'intelligent cars' in the country next year, according to local reports.
The automaker first began testing C-V2X technology functions in China late in 2017, in trials at the National Intelligent Vehicle Pilot Zone in Shanghai.
Ford China in a statement told local reporters it had begun final testing its C-V2X 'cellular vehicle to everything' technology on a 100km (60 mile) stretch of motorway and on public roads in a 100 square km area around Changsa.
The automaker claims the technology can help make roads safer, as vehicles will be able to detect pedestrians, cyclists and other road users by communicating with each other and with roadside infrastructure.
It also said the technology will also support the development of autonomous driving.
Ford's SYNC+ in-vehicle infotainment system provides drivers with timely road information, including upcoming traffic lights, speed limits and dangerous intersections.
It can also recommend appropriate driving speeds to help drivers avoid waiting at traffic lights and also help prevent red light violations.
Robert Hou, Ford China's vice-president of information technology, said in a statement "the C-V2X system enables vehicles to receive updates on potential traffic developments, including risks that onboard sensors have yet to pick up on.
"Our testing programme in Changsha is designed to help [us] accelerate C-V2X technology implementation in China and verify how the applications could effectively support the city's intelligent transportation systems".
Ford said the functions tested in Changsa would be made available to a select group of owners later this year, via over the air updates, with any feedback used to make changes needed ahead of production in 2021.